Remote Worker Solutions from Snom: Collaborate & Communicate
tburtless
At the beginning of 2020, remote work had increased over the past five years by a substantial 44%. Even more surprising, it grew 91% over the past ten years. In the midst of business "shutdowns" due to COVID-19, traditional in-office roles are now turning remote. Employers must supply their associates with the essential tools necessary to communicate and collaborate. To streamline the process, businesses can turn to Snom. Snom offers all of the necessary desktop devices that sales, support, accounting teams, and more will need to ensure at home success.
D7xx Series Desk Phones
The Next Generation D7xx Series of professional desk phones are both aesthetically pleasing and extremely practical – meeting the requirements of associates who are at the office and at home. Snom D7xx Series desk phones are known for possessing the best in Wideband HD audio, so calls are always crystal clear.

Users have their pick of three options – the advanced D785, mid-tier D735 or entry-level D717. All three feature varying sized brilliant color screens and an array of other features, which may include VPN support, Bluetooth capabilities, or a second screen for contact management (model dependent)
Remote Worker Advantages:
Work from anywhere around the home by using the WiFi dongle so you aren't tied to your router
Built-in Bluetooth Connectivity & Electronic Hook Switch (EHS) support so you can pair a wireless headset & take calls from around the house
M100 Key Line Emulation Series
WFH employees do not want to be tied down in their home office. Instead, they want the freedom to choose and move their workspace throughout the day. The Snom Key Line Emulation Series will allow them to do just that. Only the M100 KLE Base Station must stay stationary next to a router. The wireless deskset and handsets can be moved freely throughout the home, even in areas without a power outlet!

Remote Worker Advantages:
Easy for employees to set up on their own at home in only a few minutes
DECT technology allows for employees to set up their deskset anywhere there is a nearby power outlet – in the den, at the kitchen table, wherever! No Ethernet drop is required
Long talk time means you can move the phone to a remote location and leave it for quite a while (7 hours for the deskset, 9 hours for handsets)
The high HD voice quality ensures that calls sound life-like, so you will feel as connected as possible to those on the other line
A100M/A100D Headsets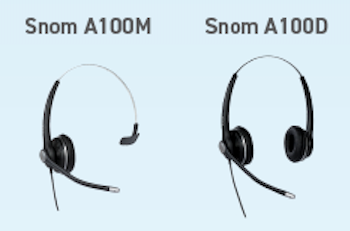 All WFM associates will benefit from using a headset, so they need one that will offer a feature set that's conducive to the remote working environment. The Snom A100M/A100D sports capabilities that will help improve connection and collaboration:
Remote Worker Advantages:
Noise-canceling microphone will guarantee clear voice transmission, even if the dog is barking or children are loudly playing in the background
Lightweight & comfortable so associates can keep it on all day
Binaural headset's two speakers ensure perfect isolation in the home, so no need to worry if anyone else living there is talking, moving, or working
Connectivity option for USB
By choosing Snom, you are ensuring that associates have all of the voice communication tools they need in order to set up a fully functional home office. As more and more employees work remotely in the short-term (and potentially long-term, as trends are predicting), these solutions will prove to be more and more beneficial.
---
Interested in learning more about a work-from-home solution from Snom that will be suitable for your customers? Contact an 888VoIP Channel Account Manager at 888-864-7786 or by emailing sales@888VoIP.com.