Yealink Video Solutions for Zoom Rooms
tburtless
In partnership with Zoom, the Yealink video solution CP960-UVC Zoom Rooms Kits come fully integrated with Zoom Rooms and include pre-installed Zoom Rooms software. Certified by Zoom, Yealink offers three Zoom Rooms kits to fit different meeting scenario needs, including solution kits for huddle / small rooms, small/medium rooms, medium / large rooms, and large / extra-large rooms. Every solution delivers premium audio and video quality thanks to the combination of the Yealink CP960 Conference Phone and Yealink's UVC series of optical PTZ cameras, which work in tandem to provide users a native Zoom Rooms experience.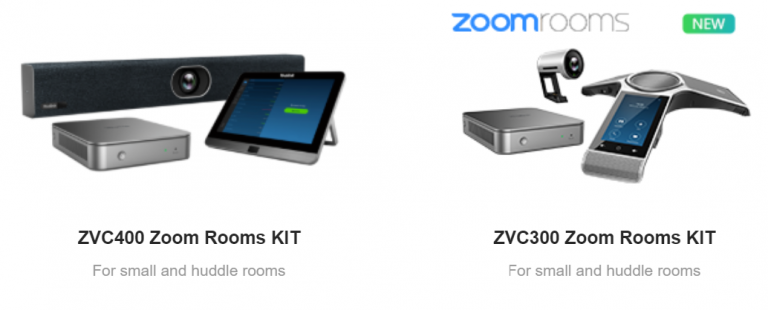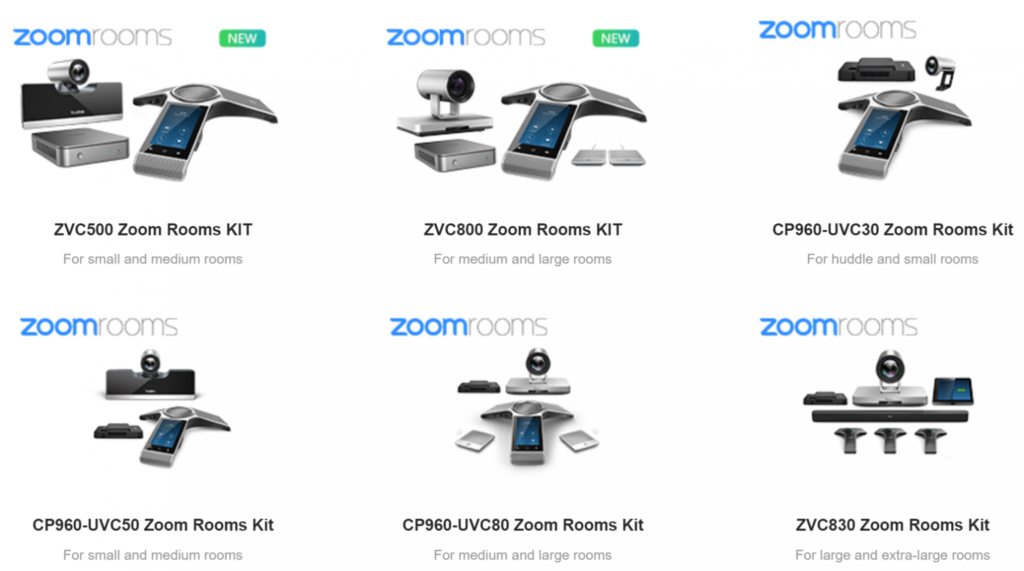 Complete Device Package Offer
Yealink delivers a complete Zoom Rooms package containing a full hardware suite (mini-PC, camera, audio devices) as well as the requisite software and license, simplifying the purchasing process and deployment while making the after-sales service experience more convenient than ever.
Simple to Deploy, Easy to Use
Integrating microphones, speaker, and meeting console, the Yealink CP960 conference phone supports one cable connection in the conference table, eliminates the need for a traditional USB cable from the TV area to the conference table area, greatly simplify deployment.
Premium Audio and Video Meeting Experience
Featuring a built-in three-microphone array, the Yealink CP960 Conference Phone ensures a 360-degree voice pickup range with up to a 20-foot (six-meter) radius. Thanks to Yealink Noise Proof Technology, background noise is minimized so that everyone in the room can be heard clearly. By adding the two CPW90 wireless expansion microphones, the CP960 can provide up to a 40-foot (12-meter) voice pickup radius without any additional wiring.
Yealink's UVC optical PTZ camera delivers sharp, smooth, and stable video with a deep focus field. The wide-angle horizontal field-of-view lens and adjustable camera angle provide a broad view of the conference room.
Manage Your Devices Remotely
Yealink Device Management Platform or cloud service can manage the Yealink CP960-UVC and ZVC Zoom Rooms Kits, allowing administrators to remotely control all devices with ease. The platform supports remote configuration, firmware upgrading, monitoring and diagnosis. Through Windows Update, users can get the latest version of the UVC camera driver and Yealink Plug-in for Zoom Rooms, further enhancing the user's Zoom Rooms experience.
Contact an 888VoIP Account Manager to learn more or call us at 888-864-7786
Subscribe to our mailing list to stay up to date on all 888VoIP offers and promotions!