What is TAA Compliance and Why is it Important?
tburtless
You've probably heard it a number of ways: TAA, Compliance, TAA Compliant, Trade Agreement Act Compliant, etc. But what is TAA Compliance? What does it mean for your business and the products you sell to your customers?
What is TAA?
The Trade Agreements Act (TAA) was established in July of 1979 and builds on the Trade Act of 1974. It was originally established to provide opportunities for the USA to further involve itself in the international trade market, and to establish certain rules to regulate that market. It also established the concept of a good being "TAA Compliant." According to the Act, in order for a product to be TAA compliant, it must have at least 50% of its overall manufacturers cost originate in the USA or in other specifically designated countries.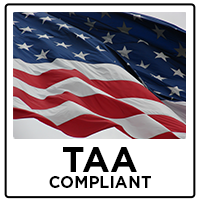 Why is TAA Compliance Important?
So what's the draw for a product to be TAA compliant? For one, TAA compliance is required for federal procurements. Government agencies cannot purchase non-TAA compliant products for public contracts above $180,000 (value may change depending on specific agency).
If a company does not produce TAA compliant products, it is automatically out of the running for governmental contracts with the General Services Administration (GSA) and the Department of Defense (DOD) and thus losing out on a lot of potential revenue. Because most government projects are typically going to run at a value higher than $180,000, this means pretty much any company that wants to score these contracts need to be TAA compliant.
CyberData and TAA Compliance
Resellers involved with government contracts can rest easy knowing that CyberData's Endpoints are TAA Compliant! CyberData has been in business since 1974. Based in Monterey, California, they certify that each end product* complies with the terms defined in the Federal Acquisition Regulation clause titled "Trade Agreements."
Because TAA Compliance is so important to CyberData, their products are easily marketable towards government use-cases, and they have already been used in many different government contracts.
Heard enough and ready to offer CyberData to your customers? Visit CyberData's Product Portal or send us an email.
Find out other ways that CyberData supports you and your customers through a product's sale to its EOL days in our blog, "Why Choose CyberData?"
*Please note that only the 011187 and 011258 are non-compliant