How To: Update School Notification Systems with CyberData
tburtless
While the pandemic continues on & uncertainties stir, many school districts are still planning on students attending in-person classes come Fall 2020. In order to successfully reopen, schools may need an update of their paging & mass notification systems, especially in order to communication important health/pandemic related updates, as well as new policies & procedures. CyberData can assist with improving these systems with their SIP & multicast endpoints that use on-premise or cloud-based VoIP phone systems to page and provide access control.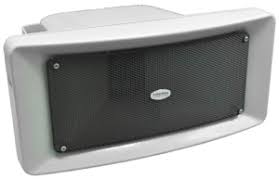 Indoor/Outdoor Horns: Horns can be utilized to provide announcements, reminders, and emergency notifications in noisy halls, busy bus drop-off areas, and in other loud school environments. For Fall 2020, installing horns, both indoor & outdoor, will be imperative when needing to announce reminders about keeping masks on and following social distancing parameters. An option that is "outdoor-friendly" is ideal since students will be scattered amongst a campus and not fully indoors. > Product Suggestion: CyberData 011457 IP66 Outdoor Horn
Strobes & SIP Speakers: For classrooms, offices, hallways, and other common areas, it is beneficial to combine strobes with speakers. This allows for visual notification of an announcement when it is too noisy for students & staff to hear what's been spoken. A strobe can function as an alert that an oral notification is coming so that noise levels can recede. Like horns, SIP speakers can deliver safety notifications school-wide. > Product Suggestion: CyberData 011376 SIP RGB Strobe and CyberData 011394 SIP Speaker
Access Control: Depending on health policies put into place, schools may further increase how they monitor visitors. Like many businesses, admins may ask visitors a series of health questions to weigh out their chance of being COVID-19 positive before granting them access to the school building. Equip main entrances with an intercom, whether it being audio or video, that interops with the phones administration is using. Visitors can press the call button on the intercom to call the admin's phone. The admin can then ask any pertinent questions & unlock the door if applicable. (CyberData solutions work seamlessly with many of top-leading phone manufacturers that sell into the education vertical so interoperability is not an issue) > Product Suggestion: CyberData 011309 VoIP Outdoor Intercom
Emergency Buttons: During the pandemic and even afterwards, an Emergency Button is extremely important for schools to possess. For health and safety related concerns, opt for a button that both alerts & calls. The solution should enable an audio message to be played to students & staff via Multicast while simultaneously placing a SIP call to emergency medical services – all from the touch of one button. Administrators and school nurses should have an indoor button placed in their office, while an outdoor/weatherproof emergency button can be placed in close proximity to bus drop offs and athletic areas where injuries could potentially occur. Product Suggestions: CyberData 001491 SIP Outdoor Call Button and CyberData 011185 Remote Call Button
Safety concerns are not something that will disappear once the COVID-19 challenge has been rectified. Other health concerns will pop up and of course, there are always general safety concerns when it comes to educational facilities. With CyberData's paging and mass notification systems, it is possible to address these problems before they escalate. To learn more about how CyberData can help update school notification systems, contact an 888VoIP Channel Account Manager at 888-864-7786 or by e-mailing the team directly at sales@888VoIP.com.