October 2023
---

October 16 @ 9:00am - October 19 @ 5:00pm EDT
Crexendo User Group Meeting – A NetSapiens Platform Event 2023
The User Group Meeting is an annual event that brings together our NetSapiens Platform Partner Community to learn, network, interact with key vendors in our supplier ecosystem, share best practices, and understand the latest developments to enable them to manage their systems and scale their success.
November 2023
---

November 14 @ 9:00am - November 16 @ 5:00pm EDT
CVx EXPO23
Come visit the 888VoIP team, a silver sponsor of Channel Vision's CVx EXPO23, at booth 1005!  Qualified partners can sign up here for a FREE All Access Pass.
February 2024
---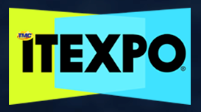 February 13 @ 9:00am - February 16 @ 5:00pm EDT
IT Expo 2024
Come meet with The Right People, choose The Right Technology options for your needs, and always keep an eye on protecting your assets with The Best-in-Class Cybersecurity tools.  We will be at Booth 327.