Patton's Virtual SmartNode Wins 2020 Product of the Year
tburtless
GAITHERSBURG, MARYLAND: Patton—creator of the Patton Cloud edge-orchestration solution and US manufacturer of world-class network equipment—has won the 2020 Product of the Year Award for its Virtual SmartNode™ (vSN) virtualized network function (VNF) solution.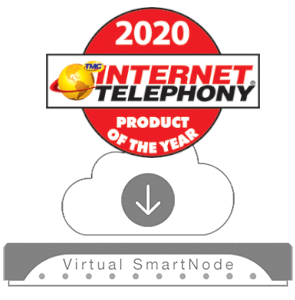 Designed within the network function virtualization (NFV) paradigm, Patton's vSN is a virtual customer premise equipment (vCPE) platform that boasts limitless scalability. The floating license model makes it easy to increase capacity and add valuable services as an organization grows.

Offered by subscription, the vSN incurs only operating expenses (OpEx), making it the only virtual CPE in the market that eliminates capital expense.
"We are honored to accept this industry-renowned award," said Robert R. Patton (Bobby), CEO. "SmartNode has long history of award-winning performance. The virtual SmartNode delivers virtual network functions that meet the real needs of business networks with extremely high availability. And… it's very fast."

Since 2005, Patton has earned over two dozen industry awards for its innovative networking products and solutions.
In third-party field testing, Virtual SmartNode activates in less than 13 seconds.
"Congratulations to Patton for earning Internet Telephony Product of the Year," said Rich Tehrani, CEO, TMC. "Virtual SmartNode is truly among the most innovative NFV and unified communications offerings on the market today. We expect ongoing innovation and excellence from Patton in 2020 and beyond."
Powered by Patton Cloudedge-orchestration, SmartNode NFV software delivers high availability with automated zero-touch provisioning and remote management—OA&M alerting, alarming, and reporting.
Implemented in the cloud or on customer premise with bare metal, the vSN eliminates the hardware limitations of a dedicated network appliance that often impede application performance.
The vSN delivers virtual session border controller as a service(SBCaaS) functionality for SIP trunking, hosted PBX, or unified communications as a service (UCaaS) in cloud-provider infrastructure, ITSP data centers, virtualized enterprise networks, and similar environments.
Patton's software CPE can also act as an IP access router, a VPN server, an interoperability gateway between IPv4 and IPv6 networks.

In related news Patton recently announced the industry's most flexible high-density FXS VoIP gateway.

About Patton

Patton is all about connections. In today's fast-moving All-IP market, Patton has been diligently innovating, leading the future of communication. It is our joy to connect with our customers and business partners in this mission of network transformation, building on more than four decades of technology expertise in Unified Communications, Network Access, and Network Connectivity. Incorporated 1984, Patton designs and manufactures high-quality, right-priced products and services that connect you to the cloud and the Internet of Things, leveraging virtualization, SDN, NFV, and SD-WAN. Patton is uniquely qualified to help connect carrier, enterprise and industrial networks to these advanced new-generation technologies, while preserving investments in legacy TDM and serial communications equipment. Patton's world-class customer and technical support is eager and able to help you get your solution connected and running smoothly. Headquartered in Gaithersburg, MD, USA, Patton is connected with an ever-growing network of technology, business, and sales-channel partners. To connect with local-market requirements, Patton operates training and support centers in locations spanning the globe.

PATTON Contact: Glendon Flowers | +1 301 975 1000 | press@patton.com