Grandstream Introduces New Series of SIP Intercom and Paging Solutions
tburtless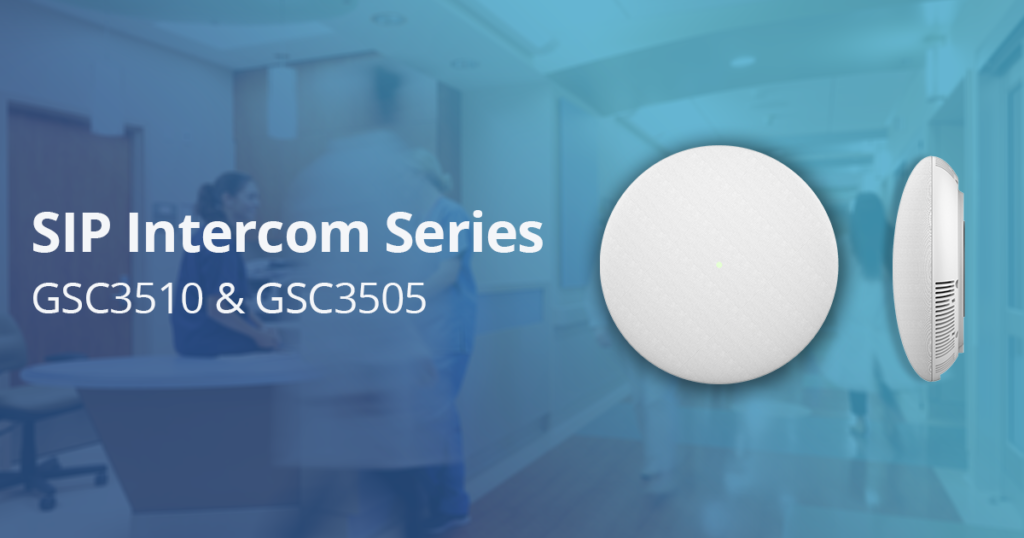 Grandstream, connecting the world since 2002 with award-winning unified communication solutions, today announced the release of a new series of SIP Intercom devices. The new GSC3500 Series includes the GSC3510, a SIP intercom speaker/microphone and the GSC3505, 1-way public address SIP speaker. Ideal for office buildings, enterprises, schools, healthcare facilities, retail centers, residential settings, warehouses and other indoor environments, the GSC3500 series allows business to build powerful SIP intercom and paging solutions that expand communication and add security.
"The GSC3500 series is yet another step on our mission to provide Grandstream partners and customers with complete unified communication and security solutions," said David Li, CEO of Grandstream. "These two powerful devices allow businesses to add a dedicated SIP intercom and paging solution that can be integrated with our desktop and cordless IP Phones, IP PBXs and facility access devices. The GSC3510 and GSC3505 will help any facility better communicate and increase security, and we're excited to deliver them to our partners across the world."
The GSC3500 Series offer top-notch intercom and paging functionality with HD acoustic chambers, support for full-band and wide-band audio codecs including G.722 and OPUS, flexible connectivity with integrated Bluetooth, WiFi and network ports and 2-pin multi-purpose inputs for integration with third-party devices such as call-buttons. They can be paired with other Grandstream devices, including desktop and cordless IP phones, UCM series of IPPBX, as well as the GDS series of Facility Access products, to easily build a state-of-the-art security and intercom solution. By adding a modern industrial design, the GSC3500 series is ideal for any indoor setting.
GSC3510 – SIP Intercom Speaker/Microphone:
Full-duplex speakerphone with HD acoustic chamber, advanced acoustic echo cancellation
3 directional mics with MMAD & microphone beamforming array
Full-band and wide-band audio codec support including Opus & G.722
Integrated dual-band 802.11 a/b/g/n Wi-Fi and Bluetooth
One 10/100Mbps network port with PoE/PoE+
2-pin multi-purpose input to support peripherals including call buttons
GSC3505 – 1-Way Public Address SIP Speaker:
Speaker with HD acoustic chamber
Features SIP paging, multicast paging, call waiting with priority override
Full-band and wide-band audio codec support including Opus & G.722
Integrated dual-band 802.11 a/b/g/n Wi-Fi and Bluetooth
One 10/100Mbps network port with PoE/PoE+
Product Resources
Click HERE to visit the product page for the GSC3500 series, which includes datasheets, technical resources and more.
About Grandstream
Grandstream Networks, Inc. has been connecting the world since 2002 with SIP Unified Communications products and solutions that allow businesses to be more productive than ever before. Our award-winning solutions serve the small-to-medium business and enterprises markets and have been recognized throughout the world for their quality, reliability and innovation. Grandstream solutions lower communication costs, increase security protection and enhance productivity. Their open standard SIP-based products offer broad interoperability throughout the industry, along with unrivaled features and flexibility. Visit www.grandstream.comfor more information or connect with us on Facebook, LinkedIn and Twitter.
Grandstream Contact
Phil Bowers
marketing@grandstream.com