Grandstream GRP2600 Carrier-Grade IP Phone Series: Coming Soon
tburtless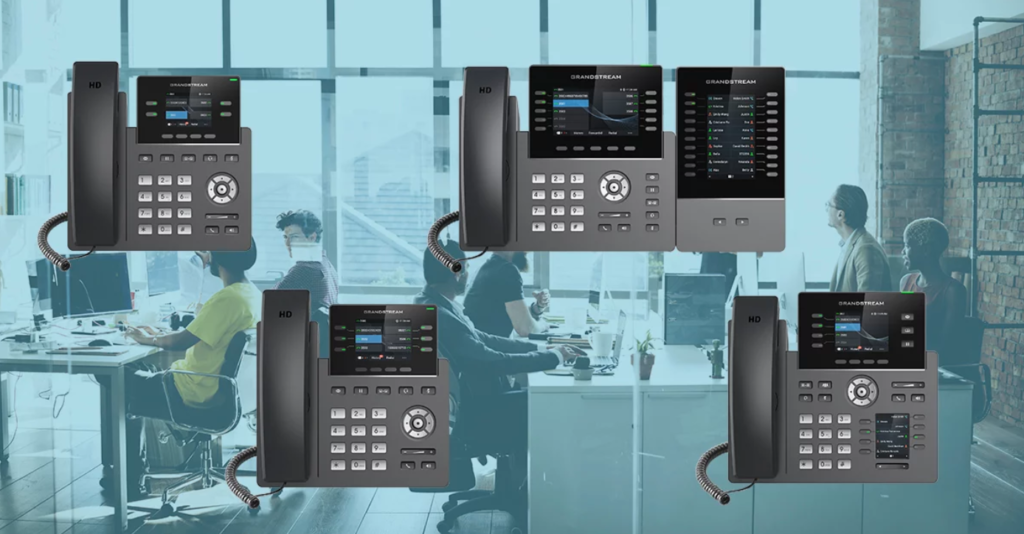 To respond to an influx in mass deployments by ITSPs and SPs, Grandstream developed a new carrier-grade line of IP phones, comprised of variety of models that will fulfill all user needs: the GRP2600 Series. These devices are packed with advanced call features that focus on user productivity and efficiency. This highly-anticipated series make mass deployment easy, quick, and efficient by relying on unified firmware, alias based config XMLs, and support of the upcoming Grandstream Device Management System (GDMS).
---
GRP2612 (P/W)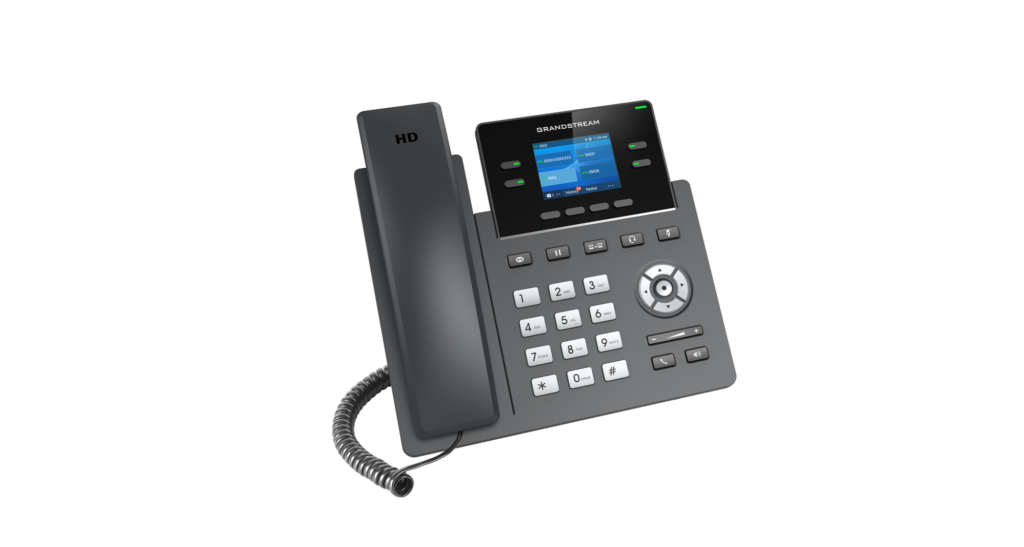 The most cost-effective option of the GRP2600 series is the GRP2612. It boasts a streamlined design that enables easy use for occasional phone users. The GRP2612 is perfect for low to medium call volume seats & industries that need access to essential telephony support. Customize deployments by utilizing PoE and WiFi
Features of the GRP2612 include:
2.4″ color LCD screen
2+2 line keys, 2 SIP accounts
100Mbps network port
Digital BLF and Speed Dial keys, 4 programmable soft keys
Support of up to 16 VPKs (4 pages)
1000 contact phonebook
PoE (GRP2612P version) or WiFi (GRP2612W version)
Opus support
Swappable Face Plate
GRP2613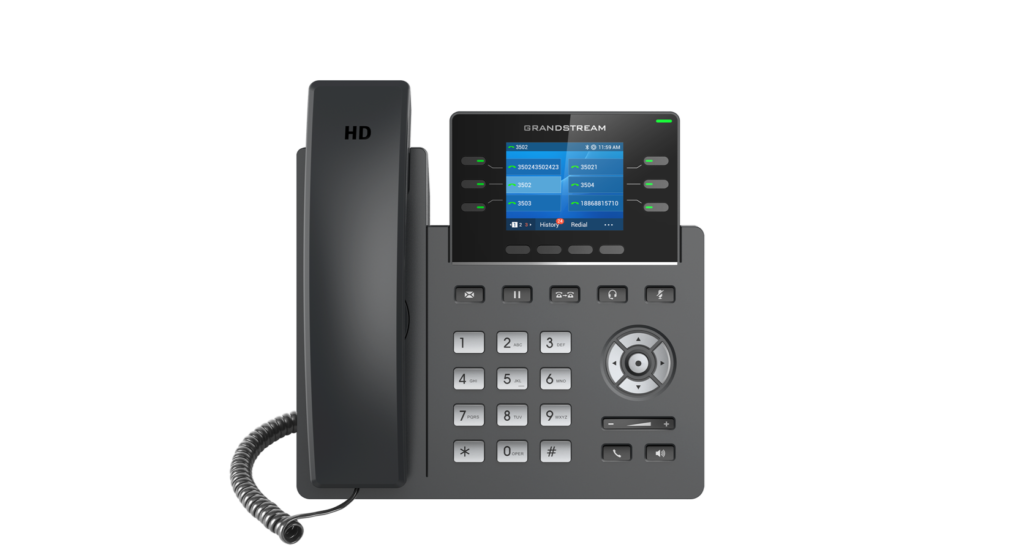 For mid-tier deployments that demand Gigabit speeds, additional VPKs, and extra lines/SIP accounts, turn to the GRP2613. This model is ideal for seats that handle moderate call volume & client-focused industries that require frequent telephony access.
Features of the GRP2613 include:
2.8″ color LCD screen
3+3 line keys, 3 SIP accounts
Gigabit network ports, PoE
Digital BLF & speed dial keys, 4 programmable soft keys
Support of up to 24 VPKs (4 pages)
1000 contact phonebook
Opus support
Swappable Faceplate
GRP2614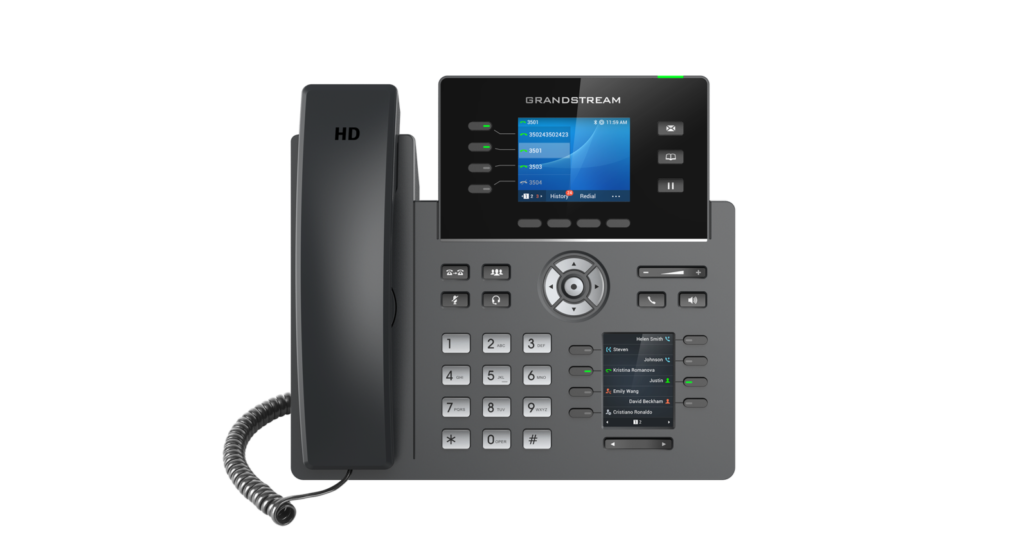 Some high-volume seat deployments require efficient call capabilities, WiFi and Bluetooth support, and advanced telephony features in order to stay productive. For these deployment scenarios, look no further than the GRP2614. The GRP2614 supports up to 4 SIP accounts and has a phonebook that holds up to 2000 contacts. It sets itself apart from the entry-level models in the series with the inclusion of a 2.4″ color LCD for BLF/SD display.
Features of the GRP2614 include:
Dual color LCDs: 2.8″ for main display, 2.4″ color LCD for BLF/SD display
WiFi & Bluetooth 5.0
4 line keys, 4 SIP accounts
2000 contact phonebook
Gigabit network ports & PoE
GRP2615
For those seeking a higher-end model with additional SIP accounts and compatibility with an extension module, opt for the GRP2615.
Features of the GRP2615 include: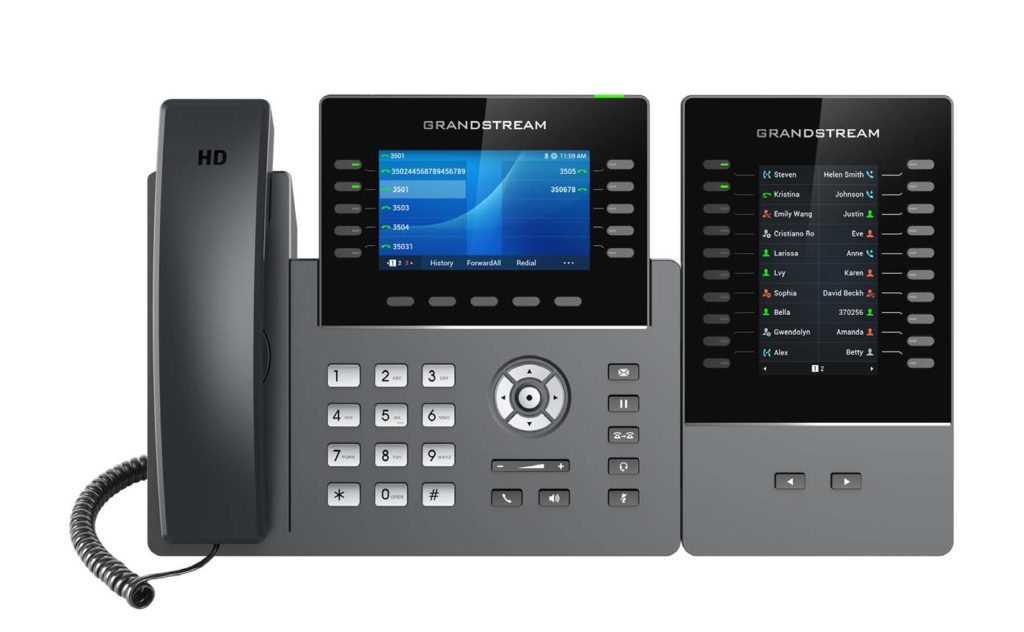 Large 4.3″ color screen
WiFi & Integrated Bluetooth
16 SIP accounts, 5 Line Keys
Opus support
Compatibility with EXT Module
Dual Gigabit & PoE
---
Other Advantages of the Series
As if there were not already a multitude of reasons to gravitate your customers over to the GRP2600 series, check out these other features and advantages.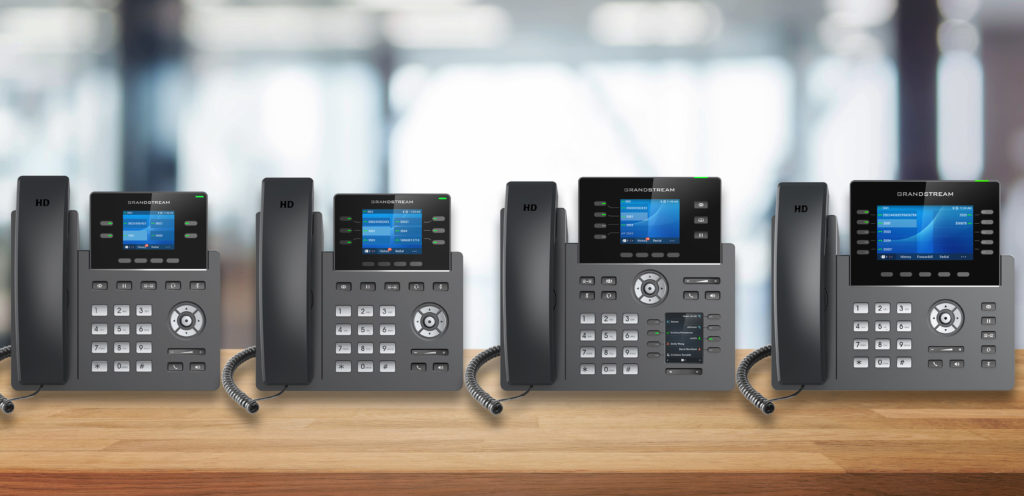 Replaceable LCD cover: Easily replace the logo on the phone for custom branding. Great for hotels, ITSPs, and large enterprises. (Available on the GRP2612 P/W, GRP2613, and GRP2615)
Redesigned UI for maximum user efficiency: Experience a streamlined design, vibrant colors, vital information displayed more prominently, and new ways to customize options.
An upcoming Config Conversion tool that will allow users to convert other brands' config files to Grandstream
United firmware and configuration template, which will help with faster bug fixes and quicker upgrades
Dual-image firmware to avoid bricked devices
Opus codec support & high fidelity wideband/narrowband
Alias name-based Config XML: Forget the existing pvalue based scheme that was difficult to understand. The new, widely-used alias configuration will be consistent across all models.
Support for the Grandstream Device Management System which will enable you to manage Grandstream GRP2600 devices before, during, and after deployments (available on all models). Manage deployments from the MAC/SN binding of device. Support template configuration groups either by device models or by specific features and push to the devices/groups. This cloud-based device management platform will also provide you with statistics to judge device performance, call quality, and everything you need to actively manage & optimize a deployment. Additional information on the GDMS cloud-based device support to come.
---
Compare the Models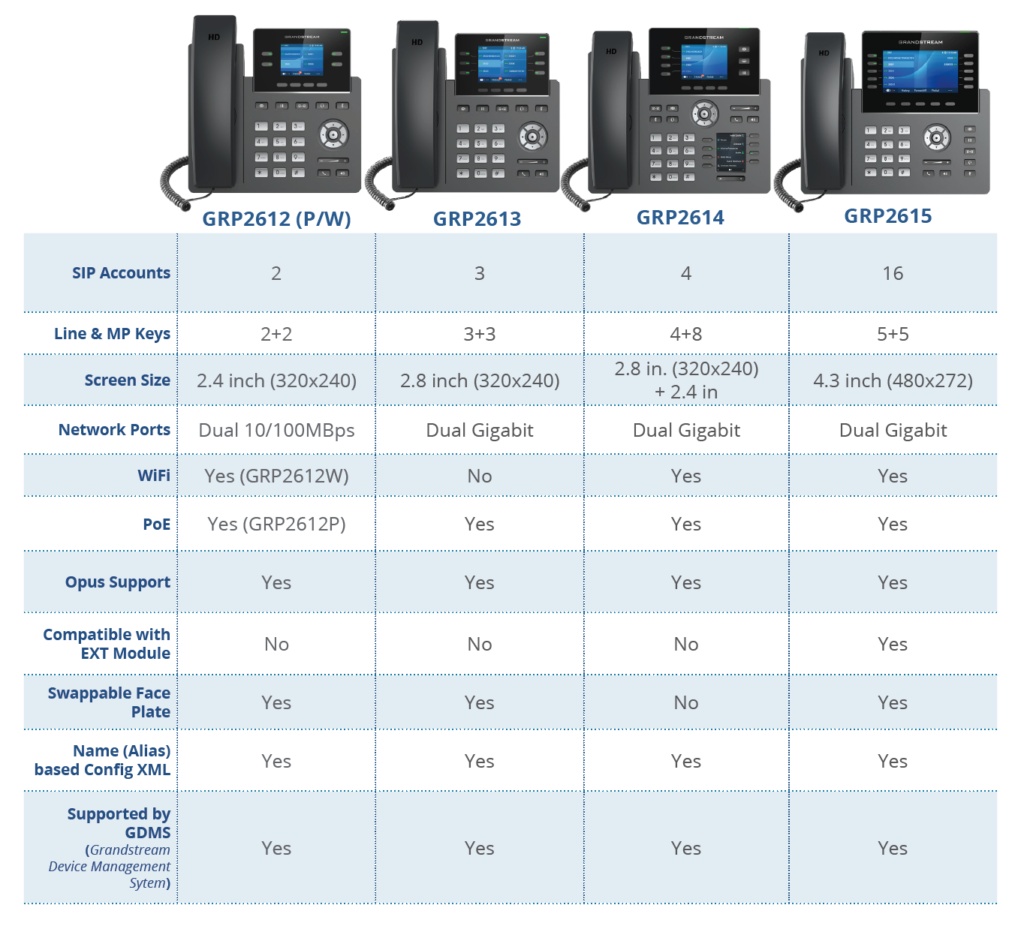 For additional information the upcoming GRP series, contact an 888VoIP Account Manager at 888-864-7786 or by emailing sales@888VoIP.com.