Yealink Microsoft Teams Work From Home & Return to Office Solutions
tburtless
Work From Home Solutions

Stay connected, stay productive
The global outbreak of coronavirus has affected the work and lives of millions. During this crisis, Yealink is working to provide you with a broad portfolio of voice and video device solutions for Microsoft Teams and support businesses and employees as much as possible, bringing dedicated home offices, remote workspaces and a seamless Teams experience to every user.
Even without a private space or a dedicated room to turn into a home office, Yealink solutions help users set up a comfortable and productive work-from-home workplace with the right tools!
Get up to 50% off MSRP on the Yealink WFH Solution devices. Contact an 888VoIP Account Manager to learn more!
Work from Home in Personal Workspace
For remote workers without a home office, Yealink provides flexible and affordable voice and video device solution for Microsoft Teams. Whether your working, studying, teaching from home or need telemedicine, you can enjoy the best Teams device solution from Yealink that meet your individual needs.
Recommended devices: Yealink UH34/UH36 USB headset, Yealink UVC20/UVC30 USB camera, Yealink CP900/CP700 speakerphone
Work from Home in Dedicated Executive Rooms
For people that would like to upgrade their home office with better Teams experience like executives and professors, Yealink provides various video and voice device solutions for Microsoft Teams, turning your home office into a dedicated workspace.
Recommended devices: the WH66/WH67 wireless headset, Yealink UVC30 USB camera, Yealink UVC30-CP900 BYOD Meeting KIT, Yealink MP54 desk phone
Return to Office Solutions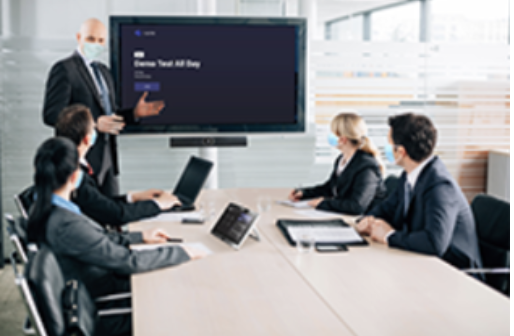 Return safely – back with confidence
With people beginning to return to work following the COVID-19 pandemic, the office restrictions and limits on business travel can make it difficult to collaborate with remote workers. This boosts the demand of video conferencing and Yealink provides the video and voice device solution you need from Microsoft Teams for succeeding through the new daily work life.
Get your offices ready for employee return, and prepare for a flexible workplace for the future. Yealink brings you the dedicated spaces for simplified meeting rooms, open workspaces, and solutions for customers especially in the education and healthcare industry allowing users to stay engaged and work better remotely.
Take advantage of Yealinks FREE Demo Trial Program for video devices, and up to 50% off MSRP of 2 voice devices. Contact an 888VoIP Account Manager to learn more!
Education Solution
For on-site and online teachers and students in universities or training centers, Yealink provides the flexible Teams video device
solutions of the MeetingBar and the MVC II series room systems from small classrooms to extra-large learning spaces. More specific MTR accessories from the Yealink solution can be taken into consideration for particular demands like whiteboard sharing, class meeting controls, and ceiling microphones.
Special Offer: Up to 30% off list price for the Dealer Registration Program PLUS a free headset (UH36 USB Headset or WH62 DECT Headset). Contact an 888VoIP Account Manager to learn more.
Healthcare Solution
For global healthcare workers in clinics, healthcare organizations and hospitals. Yealink provides video device solutions including the MeetingBar and the MTR system for different telemedicine demands of Teams meetings, resolving restrictions and maximizing the medical resources through the pandemic period.
Work From Anywhere Solution
For office workers and remote workers, Yealink provides the personal devices and shared devices for Microsoft Teams including
the MP5 series desk phone, WH series DECT headset, all-in-one MeetingBar and MVC II series room system for every user, bringing the seamless Teams experience for returning to the office and remote work in a personal office, common area, as well as different sized meeting rooms.