The Endless Reasons to Choose a Grandstream UCM
tburtless
With the overabundance of communication technologies flooding today's offices, businesses are in need of a management platform that provides unification. The Grandstream UCM IP PBX series does just that. It delivers an impressively powerful and easy to manage platform that brings together different technologies, including voice, video communications, video surveillance, data tools, mobility options, and facility access management. This award-winning all-in-one platform is a go-to solution when choosing a unified communications platform.
The Grandstream UCM series of IP PBXs are ideal for an array of different businesses, including small and medium-sized businesses and enterprises. At an affordable price point, this on-premise solution is perfect for offices, call centers, hospitality environments, commercial properties, and residences.
The Grandstream UCM IP PBX series possesses a myriad of competitive features, including:
Support for 200 to 2000 users (dependent on model)
Automated provisioning of Grandstream endpoints through Zero Config and Auto Discovery
Easy integration with Grandstream Affinity CTI app, CRM, PMS, and other third-party software
SIP voice and video support
Built-in FXO and FXS ports: No need for an extra adaptor, gateway, or module
Dual Gigabit Ports with PoE+
No on-going costs, such as licensing fees that other manufacturers may charge
Free firmware upgrades for life
Built-in features, including call queue management, IVR, call detail records, and auto attendant
Strong security through SRTP, TLS, and HTTPS encryption
Heartbeat port and high-availability (Available for the UCM6510 model when utilizing the HA100 for a redundant system with full-time availability)
Two-year warranty with extended warranties available


Grandstream has models that are perfect for different sized businesses and industries. Which device is best for your deployment, though? The table below illustrates the differences between the solutions, giving you the knowledge to make your IP PBX choice: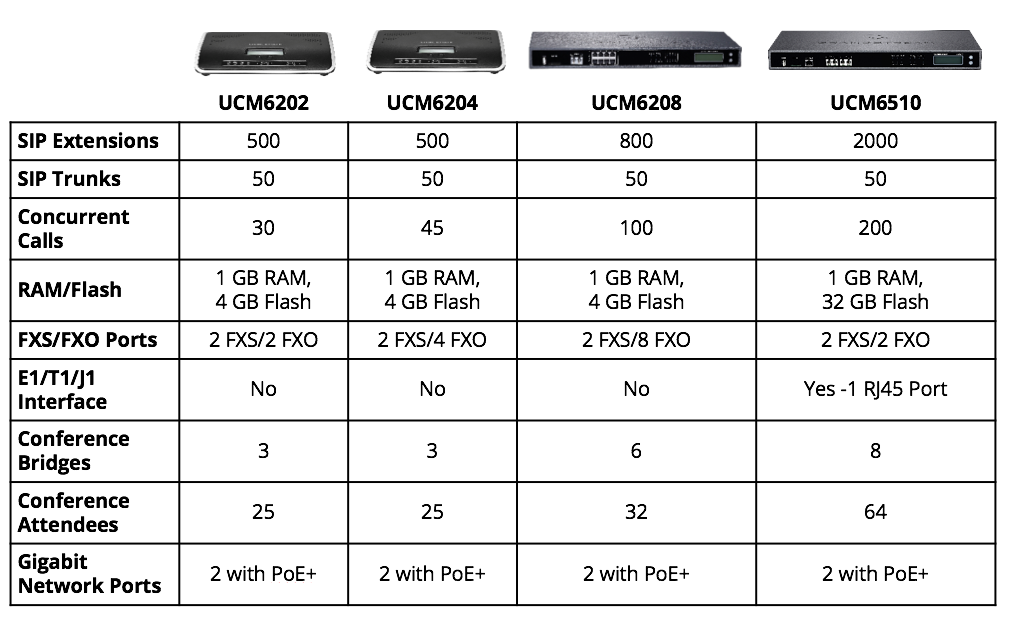 For more information on each of the models, visit their respective product pages (listed below) or contact the 888VoIP product experts at 888-864-7786 or sales@888VoIP.com. Our Channel Account Managers are fully trained on Grandstream solutions and can provide assistance in making your choice.

Did you miss our March UCM Training in Niagara Falls, NY? Keep checking our Events page or sign up for our e-newsletter to be alerted on upcoming Grandstream trainings in your area!