RPS – Redirection and Provisioning Service by Yealink
tburtless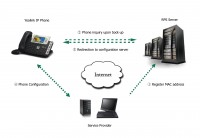 RPS is a free service for Yealink customers all over the world. By simply entering the MAC address of an IP phone and the URL of the provision server into Yealink's RPS server, upon initial boot-up the phone can be redirected to its pre-assigned server for configuration updating.
Benefits of RPS
Plug and play installation
Shipments go directly to customers
Reduced configuration errors (zero touch)
High security and reliability
Totally free of charge
Consequently, it is no longer necessary to unpack, configure or repack a phone before shipping to the customer. RPS saves your provisioning staff time, and also saves costs by shipping Yealink phones directly to the end user. Mass deployments are a perfect time to use RPS, since a "zero touch" process cuts down on errors. Your customers can rest easy knowing that RPS connections are encrypted with HTTPS, and that Yealink has backup mechanisms in place to ensure the availability of their RPS server.
How to Use RPS
Obtain access to Yealink's RPS server from your 888VoIP representative
Register the MAC addresses of your Yealink IP Phones to be configured with the URL of your provisioning server on Yealink's RPS server
Power your Yealink phones & connect them to the web
Your phone automatically fetches its own configuration file with the latest firmware and the location of your provisioning server from Yealink's RPS server
Your Yealink phone connects to your provisioning server, and provisions itself!
Yealink's RPS is particularly useful for VoIP Service Providers. Service Providers can easily edit and manage phones without ever needing local access to the phone. RPS administration is less of a hassle for end users and lets them feel independent while still receiving necessary provisioning services. When the Service Provider configures the MAC addresses and URL of the provisioning server, it eliminates the need for users to edit their own provisioning URL paths. RPS helps VoIP Service Providers make an outstanding first impression with new customers in the most vital stage of their relationship.
Get Started with RPS Today
Simply fill out the Terms and Conditions document and return it to your 888VoIP Representative to start saving time and money with RPS!
RPS technical documents:
Contact your 888VoIP Representative today for information on Yealink phones!