Manufacturing Plant CyberData VoIP Paging Solution
tburtless

CyberData specializes in innovative and cost-effective IP paging and access control peripherals. To illustrate how these devices work together in a Manufacturing Plant, consider the following CyberData VoIP Paging Solution in a Manufacturing Plant environment.
Scenario
After investing in a new IP PBX system, a container manufacturing company would like to add paging amplifiers, IP based ceiling speakers, and intercoms. While doing so, the container manufacturing company would like to utilize some of its existing overhead paging equipment to allow for general announcements, two-way communication, and access control.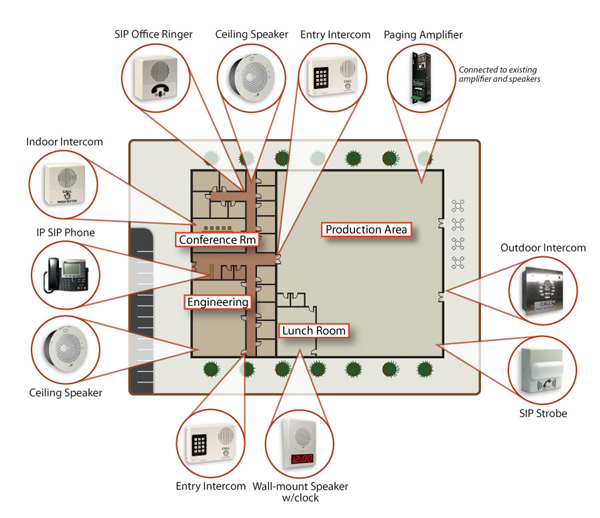 Solution
For access control and two-way communication, an Outdoor Intercom is installed at the front entrance. Indoor and keypad intercoms are also placed the entrance to engineering and accounting offices as well as within the conference room area.
Because the manufacturing plants requires multiple zones for paging, the v3 Paging Server is installed. The v3 Paging Server enables users to use a single SIP phone extension to access multiple zones for paging over the VoIP network. The Paging Server gains power and network connectivity from a PoE switch.
V2 Ceiling Speakers are installed in common and office areas, as well as hallways for public address and mass notification purposes. A Ceiling Speaker integrated with a Wall Mount Clock Kit is installed in the kitchen area, for public address as well as time-keeping.
For loud and noisy environments such as production, paging amplifiers are connected to existing amplifiers and horn loudspeakers for general announcements and production schedule notifications.
A SIP Strobe is installed as part of the manufacturing page group, to give a visual notification via the LED strobe.
A SIP Office Ringer is installed outside of the production manager's office in order to provide an audible ring indication when part of a ring group, in addition to providing paging for mass notification.
As part of an SMB manufacturing facility, CyberData IP Endpoints can enable better communications between different areas of the company. When tied to an SIP IP-PBX system, CyberData paging and intercom devices work in all areas of the facility from the quiet office environment to the high noise area of production and manufacturing.
Products Featured in this CyberData VoIP Paging Solution:
Contact your 888VoIP Sales Rep for more information on CyberData products today!
Registered VoIP Resellers of our Reseller Portal can browse CyberData products online!