Grandstream Access Points: Do You Need the GWN7600 or 7610?
tburtless
Networking is a key component to a business' success in the modern era.  Recently, Grandstream introduced its GWN Series of Networking solutions, including two different access points.  These networking solutions, both the router and access points, allow users to build powerful wired, wireless and VPN networks.  They are easy to manage & can provide businesses of any size with seamless, secure internet access.
The Grandstream access points, the GWN7600 & 7610, are designed to work flawlessly with the GWN series routers.  These WiFi access points also work with a third party router you may currently possess.  The embedded controller is one of the best features of the GWN access points.  This allows each access point to manage entire networks of other GWN access points from a single location.  Ultimately, you will eliminate the need for separate controller hardware.
The GWN7600 Vs. GWN7610 Access Points: What's the Difference?
The models may look identical, but feature-wise, they are quite different.  Understanding their features will help you make an educated decision when it comes to purchasing the correct one for your needs.
The GWN7600 is a mid-tier 802.11ac Wave-2 WiFi client access point.  This AP has 1.27 Gbps wireless throughput and 2x Gigabit wireline ports.  You can support more than 450+ concurrent WiFi client devices with this router.  Also, its range extends up to 165 meters, which is perfect for most office settings.  Ease is something that is always important to someone installing a new networking solution.  To ensure easy installation, technicians can take advantage of the controller-less distributed network design.  As mentioned before, the controller is embedded within the GWN7600's web user interface.  In addition, this AP has Power Over Ethernet (PoE).
The other option is the GWN7610, Grandstream's high performance 802.11ac wireless access point.  This access point offers a significant amount of competitive advantages, such as its 1.75Gbps wireless throughput and 2x Gigabit wireline ports.  You can support more than 250+ WiFi client devices with this router.  Like the GWN7610, this router also has an impressive range, extending up to 175 meters.  This access point also features support for PoE/PoE+ and an array of high-end security features that you are not likely to find on most 3rd party WiFi APs.  Some of these security features include a unique security certificate per device using encryption, as well as strong random default passwords per device.
Understanding MIMO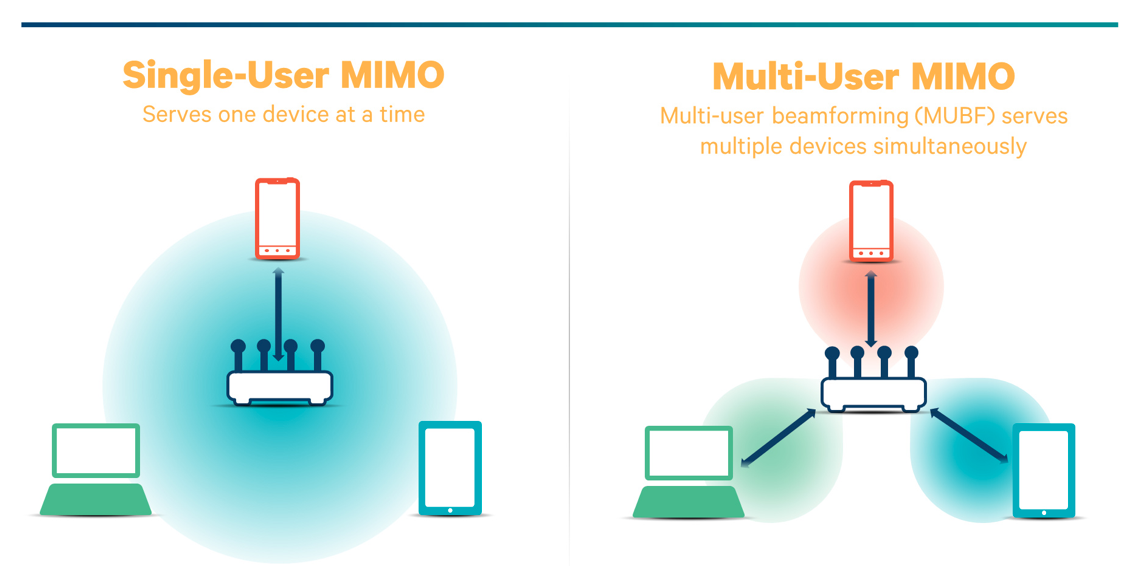 Both access points feature dual-band MIMO technology.  The GWN7610 features 3×3:3 MIMO technology, while the GWN7600 has 2×2:2 MU-MIMO technology.  Single-User MIMO serves one device at a time, while Multi-User (MU) MIMO will serve multiple devices simultaneously.
Unsure of what MIMO is and how it can benefit you?  Multiple Input, Mulitple Output (MIMO) is antenna technology for wireless communications.  The source and the destination both use multiple antennas, and antennas at each end of the communications circuit are combined.  These multiple antennas will highly optimize your data speed with minimized errors.  This will, in turn, increase your WiFi range, as well as WiFi performance.

So, Which GWN Access Point is Right For Me?
Both of Grandstream's new access points work fantastic in any office setting, whether the office is small, medium, spans multiple floors, or has branch locations.  To choose, you'll want to decide what your office needs in regards to throughput, client devices serviced, networking size, and range.
The GWN7600 is ideal for:
√  Any sized business (small, medium, large, multi-floor, branch locations)
√ Needing to support a high number of client devices at the same time (450+)
√ Medium sized network deployments (up to 30 APs)
The GWN7610 is ideal for:
√ Any sized business (small, medium, large, multi-floor, branch locations)
√ Needing higher throughput (2.4G and 5g)
√ Small to large network deployments (up to 50 APs)
To get more information on Grandstream's access points, you should contact an 888VoIP sales representative today.  Give the 888VoIP team a call at 888-864-7786.  Also, visit the Grandstream Product Portal now to see all the Grandstream solutions 888VoIP offers.