Featured Product Review: Yealink W56P Dect Phone
tburtless
Looking for a cordless telecom solution that's ideal for on-the-go workers?  The Yealink W56P is the perfect addition for business environments where workers are constantly on the move, including catering, restaurants, warehouses, and retail.  The W56P Dect phone carried over the successful features from its predecessor, the W52P, and combined it with a radically sleeker, user-centric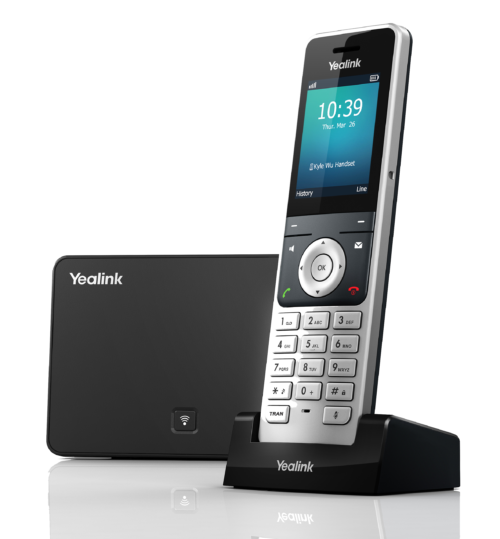 design, more VoIP telephony features, and enhanced battery performance.
In a fast paced work environment, employees are constantly talking on the phone & are too busy to always ensure that the phone is placed back on its charging base.  The W56P helps to solve the issue that a busy environment can create.  In addition to its pleasant overall experience, the W56P's advanced Li-ion battery offers 30 hours of talk time & 400 hours of standby time.  The phone also allows for easy & convenient USB charging and can be used in conjunction with mobile power packs, laptops and USB charging hubs.  This phone is ideal for an employee that is constantly "walking and talking" while on the job.
Other enhancements & additional features of the W56P include:
A large 2.4″ color screen that's larger & clearer than it's predecessor
Quick charging, where a 10 minute charge time gives the user two hours of talk time
A standard 3.5mm headphone jack, which is compatible with a wider range of headsets
Larger buttons that lead to less dialing issues
Call hold, call transfer, and 3-way conferencing
Paging, intercom, and auto answer
Call waiting, mute and DND
Anonymous call and anonymous call rejection
Speed dial, voicemail, and silence
A local phonebook that holds up to 500 entries & a remote phonebook/LDAP
Up to four simultaneous calls
Up to five handsets & up to five VoIP accounts
The functionality of the W56P is almost unbeatable and rivals the capabilities of a deskphone.  With its superior battery life and its modernized, streamlined design, the W56P is a great option for those looking for an updated DECT phone solution.
---
Ready to get more information on the W56P?  Download the datasheet or
contact an 888VoIP sales representative at 888-864-7786.