CyberData IP Endpoints: Newest Product Releases
tburtless
Leading OEM design and IP endpoint manufacturing for over 40 years, CyberData is consistently ahead of the game, developing inventive and leading-edge endpoint solutions. Known for their quality, reliability, and industrial endurance, CyberData has released an array of new products during the beginning months of 2018.
---
SIP RFID Access Control Endpoints
CyberData has added two new RFID Access Control devices to its product portfolio: 011426 SIP RFID Keypad Access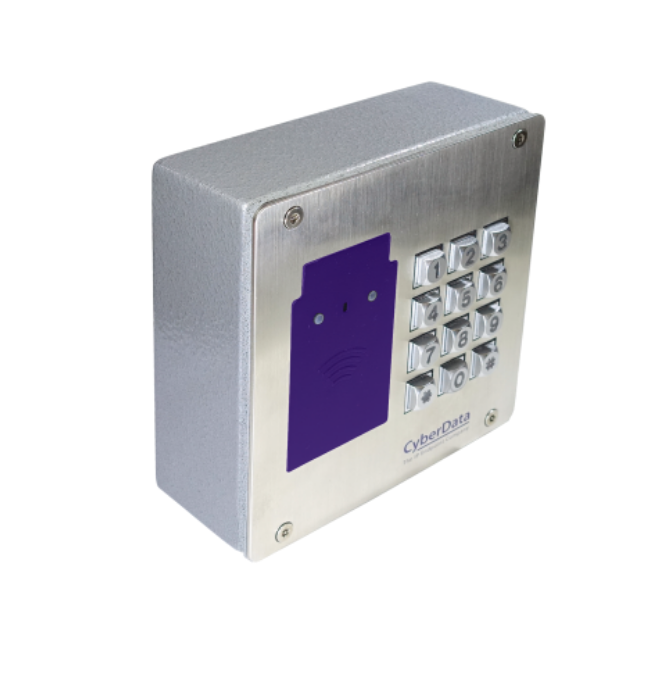 Control Endpoint and 011425 SIP RFID Access Control Endpoint. Access control is critical for properly securing a building, and both solutions provide secure entry into any structure. Geared towards the SMB security market, both endpoints are cost-effective alternatives to traditional, hard-wired control devices. Requirements of a traditional access control device may include control panels, software & hardware, and additional servicing costs. Both CyberData options, though, can be quickly integrated within an already existing VoIP infrastructure and do not possess those additional requirements.
These access control endpoints are comprised of important security features. Users can securely unlock and lock either gates or doors using the endpoint. Security is further enabled by AES128 encryption, which ensures that data between the card and the reader cannot be accessed by hackers. When a card is read, there is also an additional security measure in place: mutual authentication. The reader and the card will go through a complex mathematical process when they compare encrypted security keys. This guarantees that any communication between the card and the reader cannot be copied to produce a duplicate card.
Whether you opt for the version with or without a keypad, your RFID Access Control Endpoint will also feature:
Full SIP compliance
An IP 65 outdoor-rating, protecting it from harmful dust & water spray from all directions
An optional weather shroud to increase protection
Alert buzzer
Red/green lock status lights
Operation in standalone mode, meaning a PBX is not required & is ideal for those who don't have an IP PBX (devices will still work if you upgrade to a VoIP IP PBX)
Built-in time of access scheduler
Support of up to 500 access codes, including a "bad code" list
Web-based reporting
Learn more about all of the features of both RFID Access Control Endpoints by visiting each product page in the 888VoIP Product Portal: 011426 SIP RFID Keypad Access Control Endpoint and 011425 SIP RFID Access Control Endpoint.
---
SIP IP66 Outdoor Horn
Implementation of an IP-based overhead paging system is made easy with the CyberData SIP IP66 outdoor horn. Optimal for loud areas, such as warehouses, outdoors, and manufacturing environments, this horn is perfect for most SIP-based IP PBX servers and non-SIP environments. For the non-SIP area, the speaker can be configured to listen to multicast address & port number combinations which will lead to the formation of paging zones.
The new outdoor horn also features:
Autoprovisioning via HTTPS & web-based HTTPS configuration
Support for security code access for SIP paging
Configuration event generation for health & status monitoring
9 user-uploadable page messages
An IP 66 outdoor-rating, protecting it from harmful dust & low-pressure water jets from all directions
SIP and simultaneous multicast
Sealed network cable gland
User-uploadable tones & messages
For more information on the outdoor horn, visit the 011457 SIP IP66 Outdoor Horn product page.
---
SIP Heavy Duty Emergency Keypad Call Station
The PoE powered Emergency Keypad Call Station IP Phone is ideal for environmentally demanding installations. Quickly reach a contact with the push-to-call and emergency call button. Its ease-of-use and ruggedized exterior make it a proper addition for large college and university campus environments. The powder-coated steel faceplate will ensure the device is protected from corrosion. Like other CyberData solutions, the Heavy Duty Emergency Keypad Call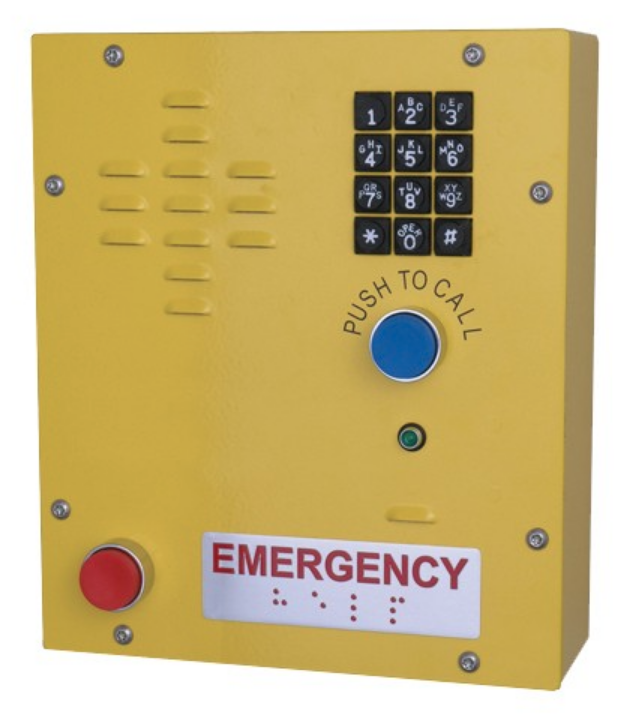 Station is fully compatible with most on-premise and hosted IP-PBX systems. Other features of the new call station include:
Ability to double as a paging speaker
Hands-free operation
Surge arrestor to prevent any voltage spike damage
Visual LED indicator for calls
Electronic ringer
Concurrent SIP call and multicast paging
For more information on this new solution, visit the 011463 SIP Heavy Duty Emergency Call Station product page.
---
Ruggedized Industrial Phones
For oil rigs, shipping ports, large campuses, subway stations, highways, tunnels, and more, CyberData has recently released four heavy-duty industrial phones specifically for harsher conditions and environments that cause challenging installations (including the emergency keypad call station). All of the new industrial VoIP phones are PoE powered, utilize the SIP 3261 protocol, and can also be used as a paging speaker. These models include:
SIP Weatherproof Keypad Phone: This SIP compliant weatherproof phone is encased in a Type 4X and IP66 sturdy thermoplastic resin, which will protect the phone from dust, rain, corrosion, splashing, and water jets. Its waterproof connections & stainless steel fittings will also further ensure durability and improve the life of the device. This phone also has a G type industrial handset, vandal resistant handset cord, electronic ringer, and hearing aid compatibility.
SIP Vandal Resistant Keypad Phone: Like the weatherproof phone, the vandal resistant phone is also protected by a closing case. This phone features a solid aluminum case, protecting it from weather, dust, and vandalism. It also sports a G type industrial handset, vandal resistant handset cord, noise-reducing microphone, hearing aid compatibility, and electronic ringer.
SIP Armored Steel Ringdown Phone: Protected from corrosion due to its powder coated stainless steel hardware, the ringdown phone is fully compatible with most on-premise & hosted IP-PBX systems. An ideal heavy-duty option, the phone also features a heavy duty G type handset, vandal resistant armored handset cord, and magnetic reed hook switch that reduces parts that are normally subject to wear.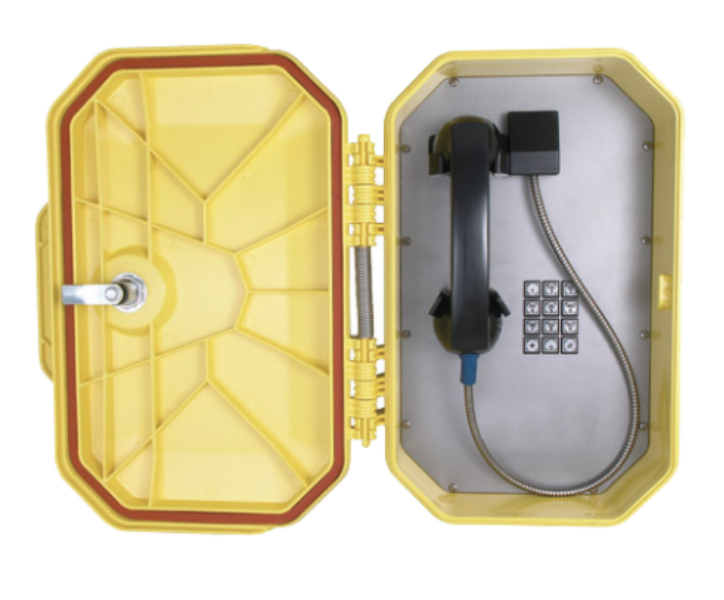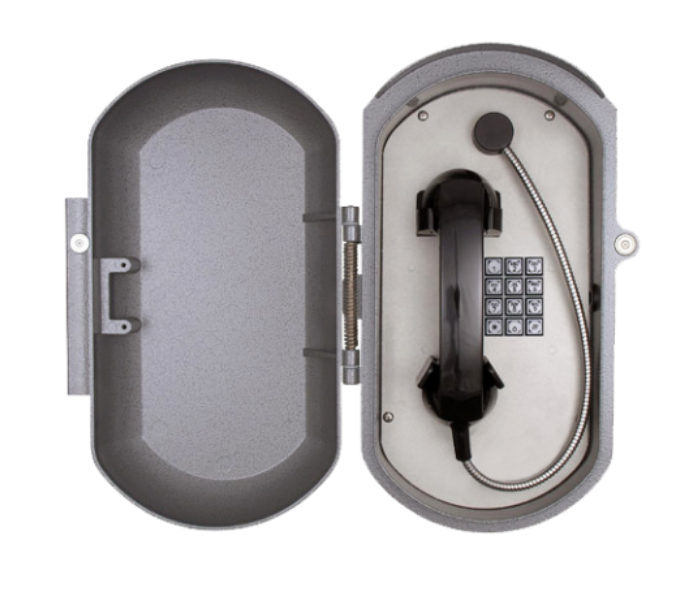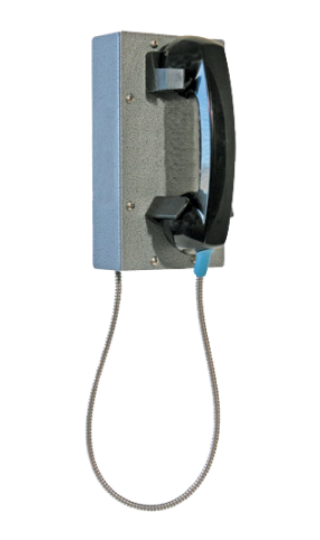 To learn more about these new solutions from CyberData or to get information on their other products, contact the 888VoIP specialists at 888-864-7786. Our expert team will be able to walk you through the CyberData product portfolio and determine the best solutions to offer your customers. CyberData solutions can fulfill the needs of many different businesses and environments, and our team will be able to identify which would be fitting for your clients.