Grandstream Learning Center
tburtless
Over the past 20 years, Grandstream has grown to become a premier global provider of communications solutions, including VoIP phones, networking equipment, conferencing solutions, and WiFi access points, to name just a few. Did you know that Grandstream also offers resellers an extensive Learning Center that includes tutorials, technical documents, trainings, product documentation, webinars, case studies, and more? Not sure where to get started? Let's dive into some highlights of the Learning Center!
Lose your Grandstream product's installation guide? Looking for security or provisioning information? Or maybe you want to know about a specific product's interconnectivity options? You'll find all of this information in the Documentation Center, a hub of product guides, datasheets, user manuals, and technical how-to guides. Searching is as easy as clicking the product line and finding your specific model, or searching by model number.
An extremely valuable part of Grandstream's Learning Center is their Academy, a portal for official product certification trainings and exams. It provides a streamlined hub for resellers, integrators, and installers to learn about products, installation, and support.
The Academy provides three different Certification Levels: Grandstream Certified Specialist (GCS), Grandstream Certified Professional (GCP), and Grandstream Certified Expert (GCE), with each level increasing in complexity and requiring certification in the previous levels. These designations and their badges give customers peace of mind knowing that your sales agent, installer, or company have the knowledge they need to best deploy & support Grandstream's products!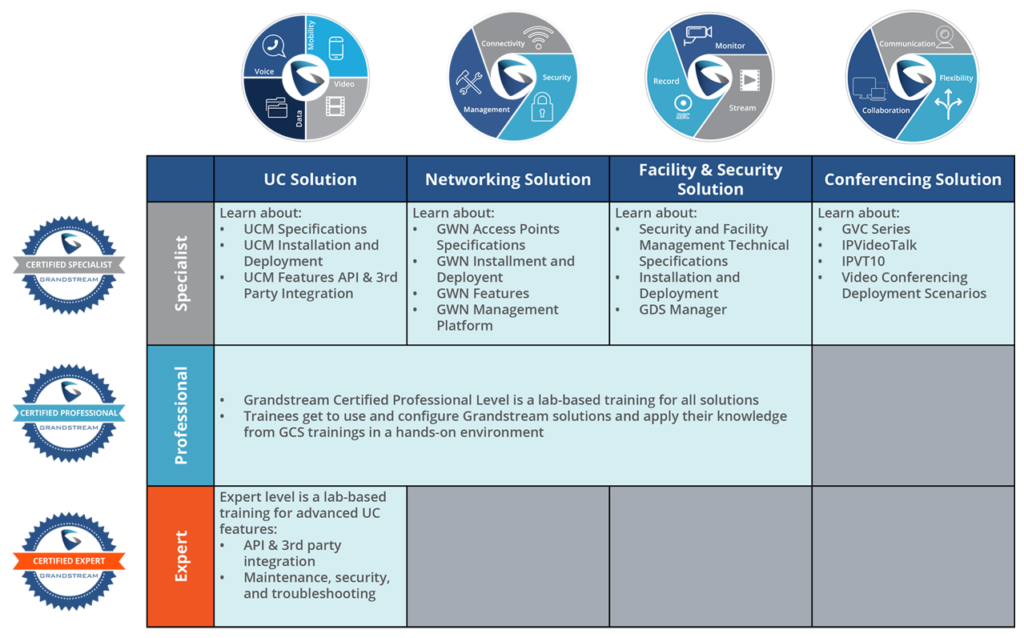 Grandstream offers many different synchronous online and in-person certification courses throughout the year.
Looking for something you can complete on your own? They also offer several different courses available that can be completed at your desk, including UC Solutions and Networking Solutions. Get GCS certified on your own time and at your own pace!
Their blog contains articles that provide unique insights into product solutions, example scenarios, use case suggestions, deployment advice, newsletter signup and more.
Grandstream's Youtube Channel comes loaded with tons of videos on a wide variety of topics, but their Learning Center highlights their Technical Videos Playlist. The hours of informative content is great for beginners and veterans alike.
Read the first-hand accounts of customers in the hospitality, education, agriculture, and accounting industries that deployed Grandstream solutions for their businesses, and how well it worked for them!
Getting support from Grandstream's knowledgeable team of engineers has never been easier or more convenient. Having an issue with a Grandstream product and can't find your solution? Head to the Technical Support's Help Desk!
Impressed with Grandstream's Extensive Learning Center and Deployment Support?