Better Paging with CyberData InformaCast Ceiling Speakers
tburtless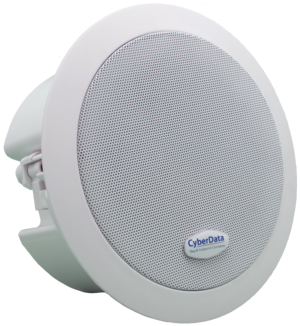 Using InformaCast? Amp up your paging and mass notification capabilities with the new InformaCast-Enabled Ceiling Speaker 011504 from CyberData. This cost-effective ceiling speaker is an economical PoE and VoIP public address device that plays both InformaCast and multicast messages. Easily connect to your PoE network with just a single Ethernet cable connection. With the device's small footprint, this speaker can be discreetly mounted in the ceiling.
Devices Features
The 011504 Ceiling Speaker includes features such as:
Capability of receiving Singlewire Informacast & multicast messages
Support of Singlewire InformaCast high-quality audio
Support of audio prioritization for 10 multicast paging groups
Receiving pages directly from Poly phones
Network-adjustable speaker volume
High efficiency speaker driver
Compact with small footprint
TLS security for autoprovisioning and web-based configuration
User upgradeable firmware via the web interface or autoprovisioning
Configurable event generation for device health & status monitoring
The new 011504 InformaCast Enabled Ceiling Speaker is ideal for schools and universities, in classrooms or hallways, manufacturing facilities, government offices, the SMB, or anywhere that there is a need for mass communication on a tight budget!
To learn more about CyberData solutions, including the new 011504 Ceiling Speaker, contact our VoIP specialists at 888-864-7786 or sales@888VoIP.com.