888VoIP Review: Yealink CP960 Conference Phone
tburtless
While it should be a common occurrence, it is not every day that a new phone solution completely blows you away. Some features may be innovative or interesting, but the phone is still missing something. Fortunately, the Yealink CP960 conference phone is a showstopping VoIP conference phone. Since its introduction, the CP960 has been impressing users with all of its advanced features and its sleek design. After using it for over five months, it has become a staple conference phone solution throughout the office.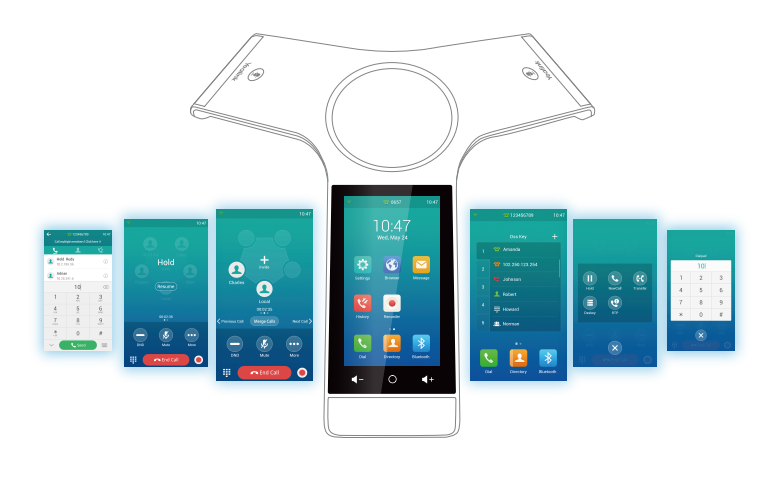 What We Loved: The Overall Ease of the User Interface
It can be difficult to train every individual in the office on a new phone; however, detailed training for the basic functionality of the CP960 was not necessary. The CP960 has a high ease of use level, so even for the novice user, it was easy to complete basic functions, such as making a call or adding a participant when a conference was already active. Before reading any instruction manual, we were able to make conference calls and begin using some of the more advanced features of the CP960. Each screen of the User Interface is simple, understandable, and clear. It is set up much like smartphones used on a daily basis, which lowers the learning curve. Also, the 5-inch touchscreen itself is fantastic with its brilliant 720×1280 resolution.
What We Loved: Active Speaker Feature
The Active Speaker Feature on the Yealink CP960 takes out the guesswork when wondering who is speaking. As more participants join the call, voices can become convoluted and it can be difficult to identify who is actually talking! With Active Speaker, you can simply look at the screen and see who is speaking, which is indicated by "waves" in the circle icon above the name of the caller. Again, like all the screens on the CP960, the Pentagon Meeting Room screen is extremely straightforward.
What We Loved: Noise Proof Technology
The noise level in our office space varies throughout the day and it can get quite loud during busy sales times. In addition, when on conference calls, most of our employees bring their laptops or electronic devices into the conference room. All of this background noise can cause clarity issues for anyone calling into our conference. With Yealink Noise Proof Technology, this background noise is almost completely eliminated. Callers only heard us speaking – with almost all background noise removed. Louder offices would greatly benefit from this feature, especially those with open floor plan concepts where meeting tables are scattered throughout.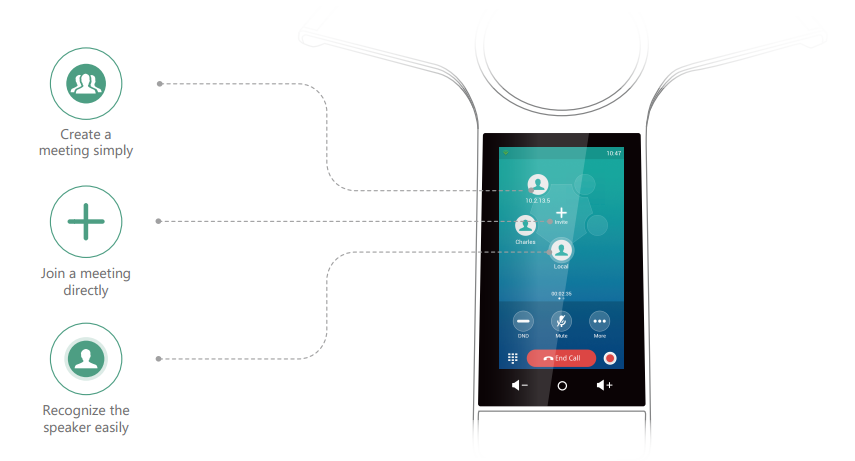 An Added Bonus: The New Structure Design
Let's be honest: many conference phones are not the most attractive and can be an eyesore on the meeting table. That's not the case with the Yealink CP960. Its new Y-shape design is a sleek grey with a simple, streamlined screen. The CPW90 Wireless Expansion Mics and their charging base also boast a simple yet elegant design that complements the CP960.
An Added Bonus: The CPW90 Wireless Expansion Mics
While the Yealink CP960 has an extremely wide pickup range (20′), further extending pickup range in a conference room is imperative. The CPW90 wireless speakers support 360-degree voice pickup range at a radius of up to 10 feet. There are no wiring troubles as the CPW90 microphones are wireless. They come with a place-and-charge cradle, and one charge supports up to 19 hours of talking time and 11 days of standby time. This accessory is not just an add-on; it is a must-have.
---
To learn more about our experience with the CP960 and the other features of this VoIP conference phone, such as the Hybrid UC Meeting or HD audio, call the 888VoIP team at 888-864-7786. 888VoIP is a Yealink distributor that can assist with providing insight on properly setting up VoIP business phone systems. Contact us today!