Patton Connects ALL-IP with Legacy Communications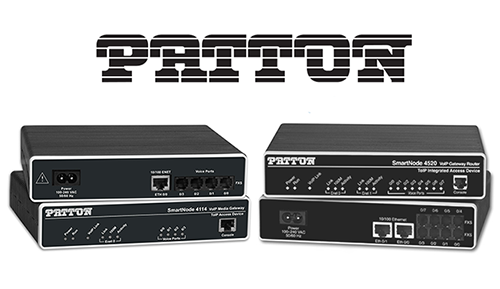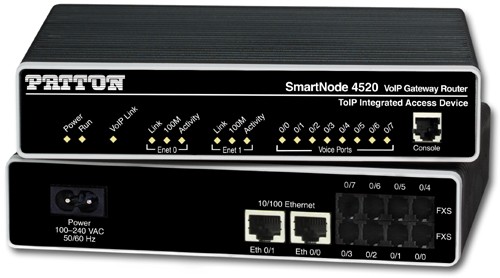 Patton SmartNode
VoIP telephony solutions are more than just talk
Experience Patton's unprecedented and highly-tested SmartNode series, offering gateway and router solutions that work with a myriad of telephony interfaces, including PRI, BRI, T1, and E1. SmartNode products include:
✓ SN4100 Gateways to bridge PSTN lines & VoIP networks
✓ SN4300 Gateways with access of up to 32 FXS ports
✓ SN4970 Gateways that offer up to 4 T1 ports & up to 120 VoIP channels
The series is accentuated by SmartNode SIP enterprise session border controllers (eSBC), providing businesses that connect to an ITSP over a SIP trunk with essential networking functions. An eSBC is require in all-IP and UC networking environments and is typically deployed in IP-to-IP implementations. The SmartNode series also features SIP session border controllers (SBC).
✓ SN5540 series eSBCs include devices to satisfy different port, security, router, and connection needs
✓ SN5570 eSBR that unites a wide range of IP-PBX products to corresponding SIP trunk service providers
Introducing the Patton Cloud
Accelerate the transition to converged ALL-IP networking, IoT, and telephony services
The Patton Cloud has been designed to solve the complicated and taxing problems that customers face while decreasing costs and improving profitability. Patton's "Cloud-to-Edge" Service Plans provide you with a centralized interface that enables management, monitoring, security, alerting, troubleshooting, analyzing, and more. You can do all this and more by leveraging a SmartNode
that has been installed on the customer premise.
For a limited time, get a free trial of the Patton Cloud – Professional Edition.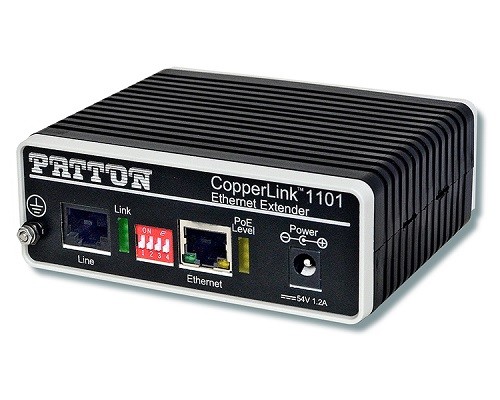 Patton CopperLink™ Ethernet Extenders
Extending Ethernet distance limitations
Patton CopperLink Ethernet Extenders are designed to extend Ethernet connections well beyond their standard range. They establish long-range, high-speed data communication links between geographically separated LANs or LAN devices. Patton's cost-effective and plug-and-play solutions will eliminate the need for expensive switches/Cat 5 cables and their complicated installations.
The Patton CopperLink series includes PoE, ultra-high-speed, multi-port, long-range, ruggedized/industrial, and Ethernet Booster options.
Patton Updates
Stay up-to-date on all the latest Patton products, tutorials, and news.
If you are wondering what you are going to do when POTS is retired, look no further! Patton Electronics...
Read More
Patton Products
Discover all the Patton products available from 888VoIP.