Professional Headsets & Speakers
When it comes to productivity, the right tools matter. Jabra headsets and speakerphones have been meticulously engineered to deliver professional UC-certified sound when in the office or on the go. Jabra's vast portfolio of headsets are feature-loaded, sporting advanced noise cancellation technology, a multitude of wearing styles, Bluetooth®, models certified for Skype for Business, and more. Every associate can find a headset that will work with their phone and their needs.
Contact us at 888-864-7786 for more details.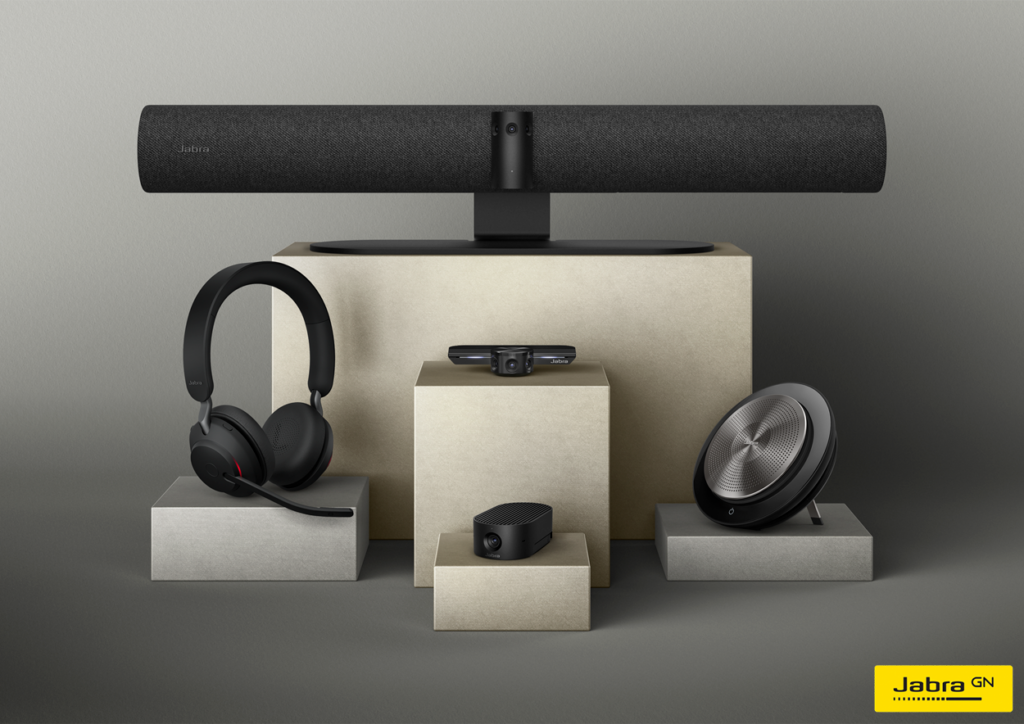 Jabra has developed intelligent audio solutions that will allow all business associates to do more, hear more, and be more. Communication is enhanced and collaboration is heightened. Jabra solutions are perfect for professional end-users, including those that are:
Call-Centric – The Engage Series & BIZ2400 II

Talk-Based – The Evolve Series & Speak

Mobile On-the-Go – The Motion & Stealth Series
Jabra Engage Series
Engineered to Enhance Customer Satisfaction
The Engage Series is ideal for call-centric associates including agents, traders, financial advisors, sales & customer representatives, and those in a call center environment. The Engage Series headsets may include advanced features including:
– Wireless & corded capabilities
– Multiple wearing styles: headband, earhooks, and neckband
– Fast charging time
– Extensive talk time of up to 13 hours (on some models)
– Advanced noise-canceling microphone
– Integrated busylight
Jabra Evolve2 Series
Engineered to Enhance Productivity in Offices & On-the-Go.
The Evolve Series is optimal for task-based associates in an open office who demand full concentration including marketing, R&D, and supply chain. The Evolve Series also meets the requirement of your remote employees who work in large territories, make client visits, and travel frequently. These headsets are geared towards collaborators who want to avoid disruptive noise.
The Evolve Series headsets may include advanced features such as: World-class speakers that deliver amazing sound, Passive & active noise cancellation technology, Wireless & corded capabilities, Bluetooth® connectivity, Skype for Business certification, Compatibility with all leading UC platforms, and more.
Regardless of office or conference room size, the Jabra Speak Series has a speakerphone option that's right for you – with sizes perfect to sit on the conference room table or be packed in a briefcase to talk to sales meetings. These speakers make calls easy with intuitive interfaces, connectivity options such as Bluetooth, and superb sound quality.
Introducing the world's first intelligent 180° Panoramic-4K plug-and-play video solution. Your employees may be working elsewhere – at home, in another office, on the road – but you can still see and hear them with the Jabra PanaCast. The Panoramic-4K video technology provides you with a full 180° field of view. This solution is ideal for small spaces & huddle rooms and plays well with the Jabra Speak 710 speakerphone. The PanaCast is also Microsoft Teams Certified.
Is Your Phone Compatible with Jabra?
Looking for Every Jabra Resource?
Jabra Updates
Stay up-to-date on all the latest Jabra products, tutorials, and news.
Jabra Products
Discover all the Jabra products and services available from 888VoIP