Call Recording, Quality Assurance, AI and Analytics
CallCabinet provides essential insights from communications channels. Enhancing carriers and global enterprises by providing cloud-based Call Recording, Quality Assurance, AI, and Analytics solutions that capture customer interactions whenever, wherever, and however they occur.
Engineering for innovation, CallCabinet is continuously using best-of-breed technologies. The core Atmos solution is natively developed for the cloud. With over 100 years of collective expertise, CallCabinet has built a secure and compliant multi-platform, a multi-tenant carrier-grade solution that is telephone system/platform agnostic.
Contact us at 888-864-7786 for more information.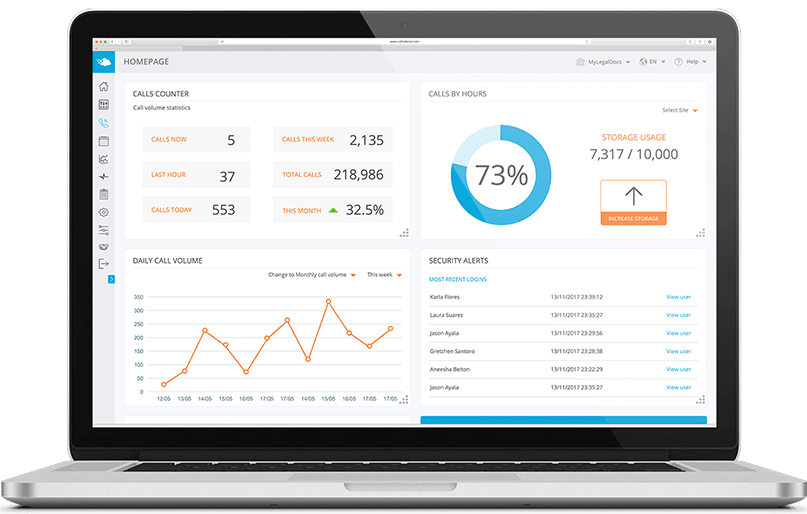 All the features you could ask for, and more
Atmos Call Recording

Secure and compliant cloud-based call recording.

Quality Assurance

See how employees communicate with customers.

Artificial Intelligence

Predictive insights for speech patterns and keyword alerts.

Analytics

Reporting dashboards for ease of visibility and optimization.
The Benefits of CallCabinet's Atmos
CallCabinet's Atmos is an award-winning Call Recording as a Service (CRaaS) platform that utilizes Cloud technology to provide customer/agent audio and screen interaction analysis, eliminating the cost and burden of traditional on-site hardware systems.
Enhance your Atmos experience with Atmos PLUS

An all-in-one customer experience:
Voice Recording
Screen Capture
Employee Evaluation & Training
Employee & Supervisor Notes
Compliance Support
Call Tagging
Detailed Call Information
Atmos PLUS provides you with a 360-degree view of customer touchpoints that allow managers to track how employees engage with customers, handle specific situations, and conduct daily activities, all from one screen!
Atmos PLUS is designed to be user-friendly. Its features are so easy to learn that after a brief tutorial you've mastered the software in minutes! Since valuable face time with staff isn't wasted learning how to use the system, management can now focus on what matters. Our intuitive web interface makes playback and call navigation easy. You're not jumping all over trying to remember where a particular feature is located because all Atmos PLUS features are available from a single screen.
The Features of CallCabinet's Atmos PLUS
Notes
Add notes to specific highlighted sections of a call
Tag call sections with information
Preview notes taken during a call
A supervisor can see where an employee took a specific note
Supervisors can scroll from note to note
Notes have a time and date stamp that cannot be edited
Info added to a note is automatically appended with a new time and date stamp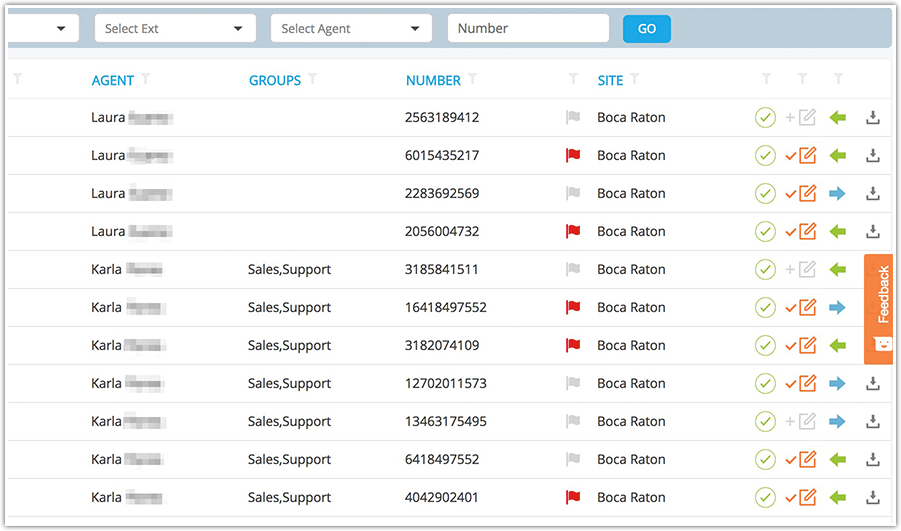 Call Listing
Maximum flexibility to flag, download, email, or score
Easily search for specific calls using a variety of filters
Access all features from one screen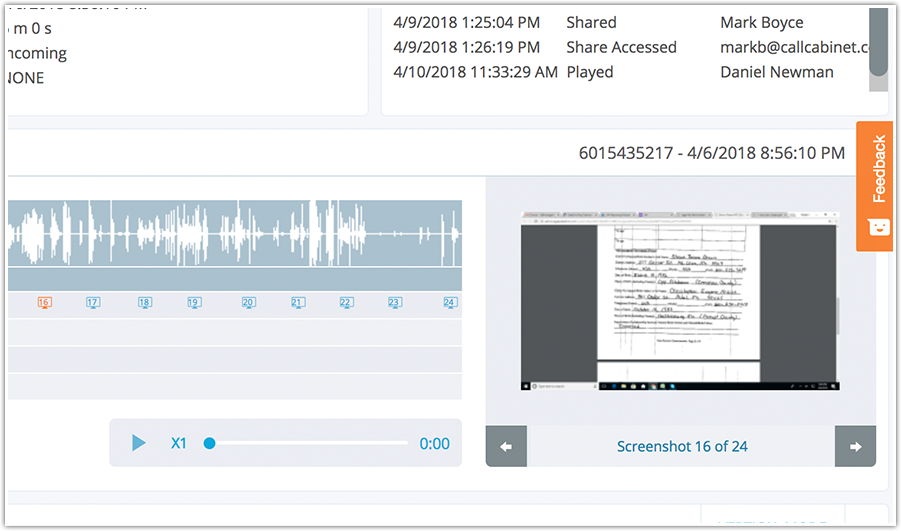 Agent Screenshot Capture
Provides a more holistic view to understand the entire experience
Set the frequency and intervals of captures down to fractions of a second
Continuous screenshot feed without consuming additional bandwidth
Displays screenshots next to the call during playback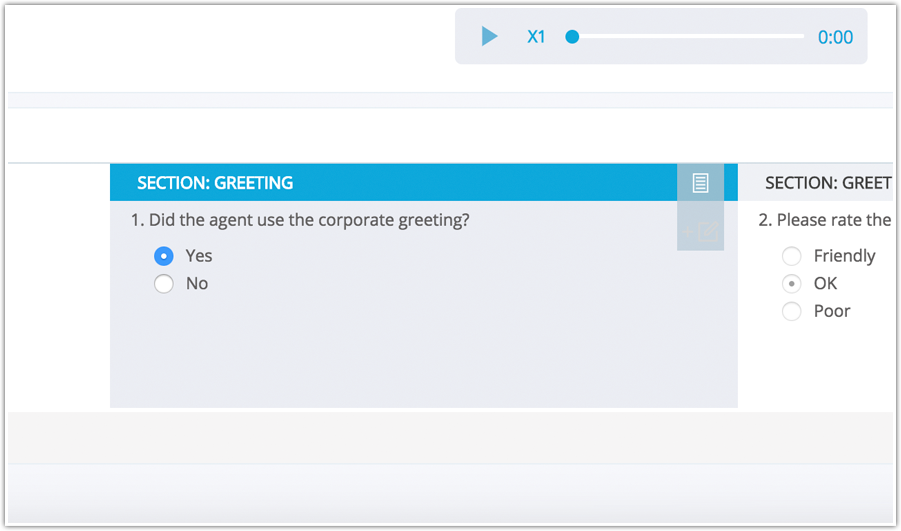 Define Custom Evaluation Metrics
Weighted according to business and customer requirements
Measure performance individually or against others
Identify skill gaps and training needs
Monitor performance for compliance with protocols
Initiate corrective actions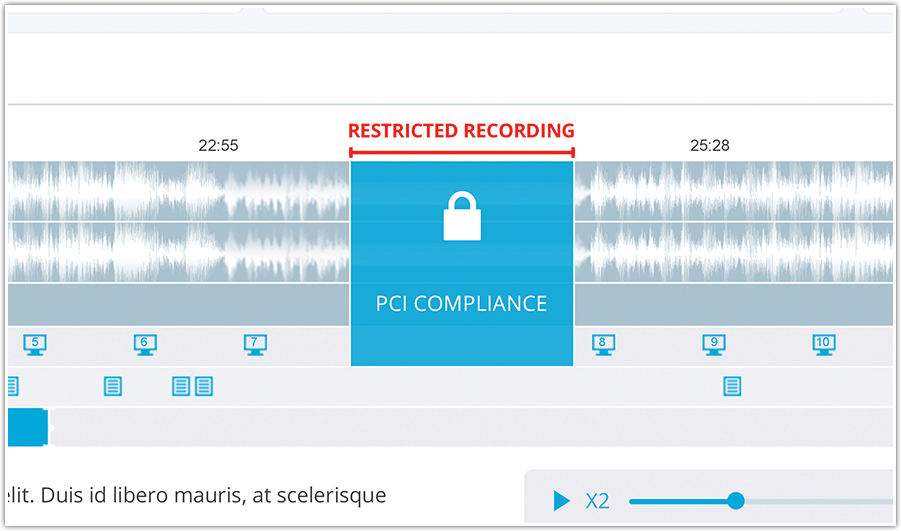 PCI Compliance "Masking"
In line with PCI DSS (Personal Credit Information Data Security Standards) Compliance, Atmos PLUS hides select audio & visual info from listeners when personal data applicable to PCI compliance standards is given.
Audio is muted and screen capture is blocked during the masked portion of calls
PCI Masking can only be removed by court order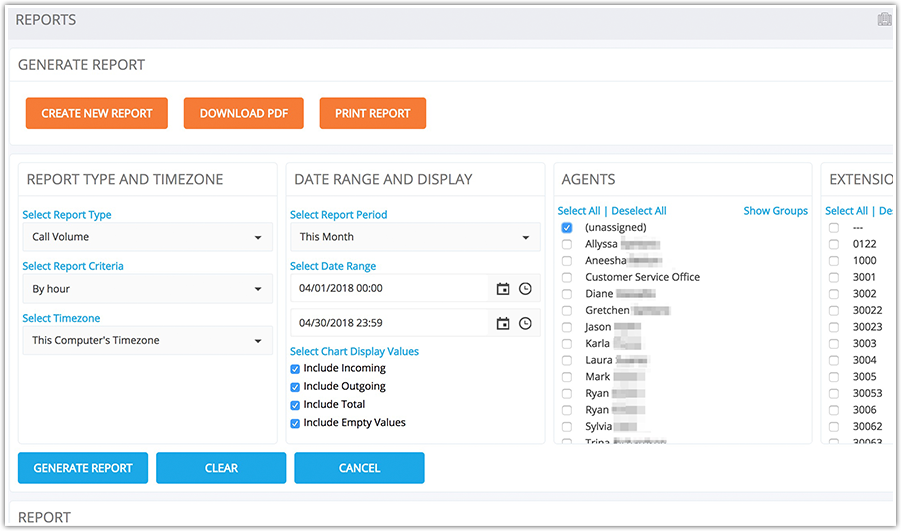 Customized Reporting
Use pre-built templates or create your own user-defined reporting dimensions
Select or modify reporting dimensions from a list of standardized customer experience options
Create your own custom reports to meet your specific business and customer management needs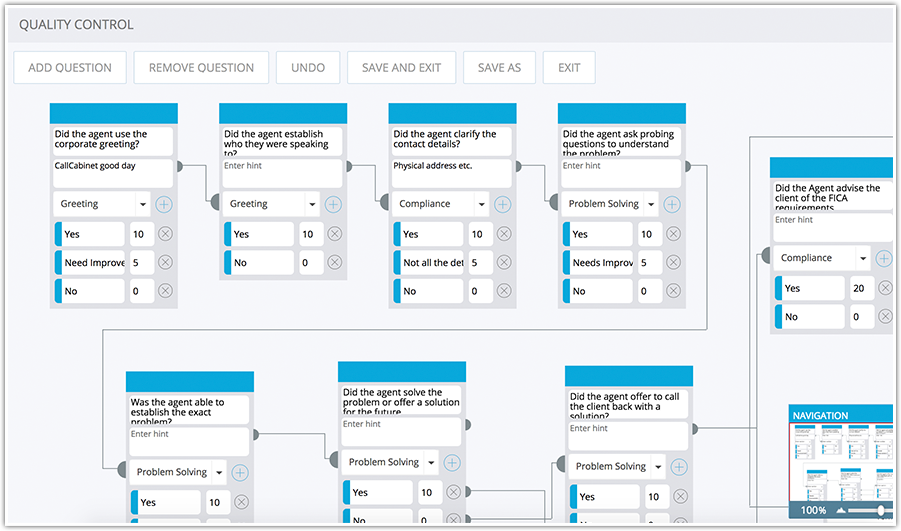 Custom Scorecards
Offers supervisors the ability to score on customer interactions
Sets customer service standards and measure on a scorecard that you create
Use system defined questions or create your own interaction scorecard
Assign values to questions to calculate an overall score or section score
Visually intuitive and easy to use